RFP 2021/009: Provision of Office Supplies from a web-based platform for the Green Climate Fund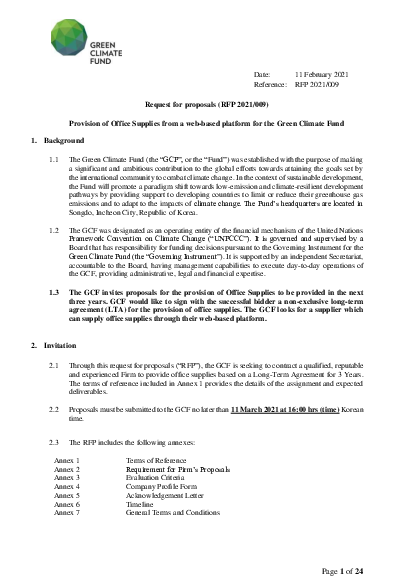 RFP 2021/009: Provision of Office Supplies from a web-based platform for the Green Climate Fund
Submissions to this procurement notice has ended.
​​​​​​The GCF invites proposals for the provision of Office Supplies to be provided in the next three years. GCF would like to sign with the successful bidder a non-exclusive long-term agreement (LTA) for the provision of office supplies. The GCF looks for a supplier that can supply office supplies through their web-based platform.​​​​​​ Through this request for proposals ("RFP"), the GCF is seeking to contract a qualified, reputable and experienced Firm to provide office supplies based on a Long-Term Agreement for 3 Years. The terms of reference included in Annex 1 provides the details of the assignment and expected deliverables.
Proposals must be submitted to the GCF no later than 11 March 2021 at 16:00 hrs (time) Korean time.
A prospective proposer requiring any clarification of the solicitation documents may notify the GCF in writing to the email address [email protected] and copied to [email protected] by the specified date and time mentioned in Annex 6. The subject line of the email MUST have the reference number and title of the RFP i.e. RFP 2021 009 – Provision of Office Supplies for the Green Climate Fund based on an LTA for 3 years.  The GCF will respond in writing to any request for clarification of the solicitation documents that it receives by the due date published in Annex 6. Written copies of the GCF response which contain information that may be of common interest to all bidders (including an explanation of the query but without identifying the source of inquiry) will be posted on the GCF website and/or communicated via email.
We look forward to reciving your proposal.
Publication date
11 February 2021