RFP 2021/005: External Review of Concept Note and Funding Proposals under the Simplified Approval Process (SAP) and Project Preparation Facility (PPF)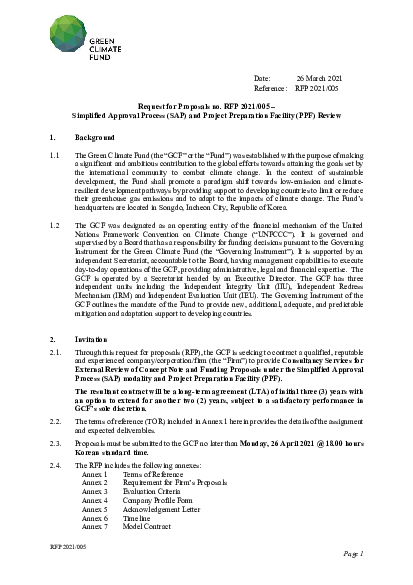 RFP 2021/005: External Review of Concept Note and Funding Proposals under the Simplified Approval Process (SAP) and Project Preparation Facility (PPF)
The GCF is seeking to contract a qualified, reputable and experienced company/corporation/firm or consortia of firms (the "Consultant Firm") to provide Consultancy Services for External Review of Concept Note and Funding Proposals under the Simplified Approval Process (SAP) modality and Project Preparation Facility (PPF).  
The resultant contract will be a long-term agreement (LTA) of initial three (3) years with an option to extend for another two (2) years, subject to a satisfactory performance in GCF's sole discretion.  The terms of reference (TOR) included in Annex 1 of the attached RFP package provides the details of the assignment and expected deliverables.
Proposals must be submitted to the GCF no later than Monday, 10 MAY 2021* @ 18.00 hours  Korean standard time.
*(Closing date was extended for 2 weeks from 26 April 2021).
Publication date
26 March 2021