RFP 2021/019: Support to the GCF Independent Redress Mechanism (IRM) Capacity Building Initiatives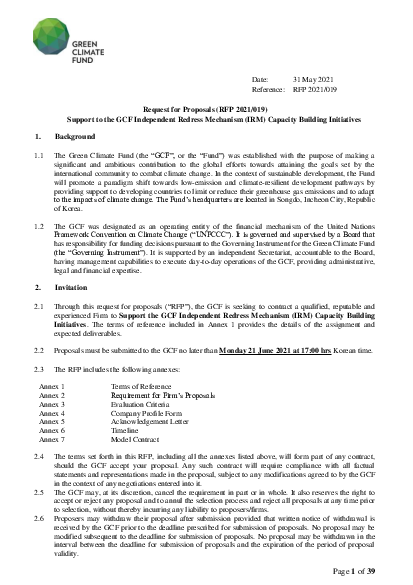 RFP 2021/019: Support to the GCF Independent Redress Mechanism (IRM) Capacity Building Initiatives
Submissions to this procurement notice has ended.
The Green Climate Fund (the GCF) was established in December 2010 with the purpose of making a significant and ambitious contribution to the global efforts towards attaining the goals set by the international community to combat climate change. In the context of sustainable development, the GCF promotes a paradigm shift towards low-emission and climate-resilient development pathways by providing support to developing countries to limit or reduce their greenhouse gas emissions and to adapt to the impacts of climate change. The GCF's headquarters are in Songdo, Incheon City, Republic of Korea.
The GCF was designated as an operating entity of the financial mechanism of the United Nations Framework Convention on Climate Change ("UNFCCC"). It is governed and supervised by a Board that has responsibility for funding decisions pursuant to the Governing Instrument for the Green Climate Fund (the "Governing Instrument"). It is supported by an independent Secretariat, accountable to the Board, having management capabilities to execute day-to-day operations of the GCF, providing administrative, legal and financial expertise.
The GCF is hereby inviting qualified, reputable and experienced companies, firms to submit proposals to Support the GCF Independent Redress Mechanism (IRM) Capacity Building Initiatives.
More details on the requirements are provided in the Request for Proposal (RFP) package which can also be downloaded from the GCF website: https://www.greenclimate.fund/procurement/rfp-2021-019
The closing date for receipt of proposals is Monday, 21 June 2021 @17.00 hours Korea Standard Time.
Publication date
31 May 2021