RFQ 2023-008: Provision of one (1) session of COSO Internal Control On-Site Training Package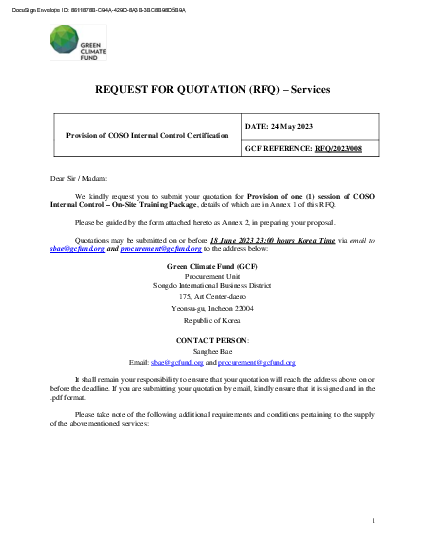 RFQ 2023-008: Provision of one (1) session of COSO Internal Control On-Site Training Package
Submissions to this procurement notice has ended.
The Green Climate Fund (GCF) is seeking a proposal for the provision of COSO International Control on-site Training pakage. More details on the requirements are provided in the attached Terms of Reference in Annex 1 of RFQ package. 
Proposals must be submitted on or before Thursday, 22 June May 2023, @ 23.00 hours Korean Standard Time (KST).
If you have any questions regarding the RFQ, please contact at [email protected] and [email protected]. 
Publication date
24 May 2023