RFP 2023/030: Consultancy services for Establishing a shared data vision for the Green Climate Fund and recalibrating the GCF data strategy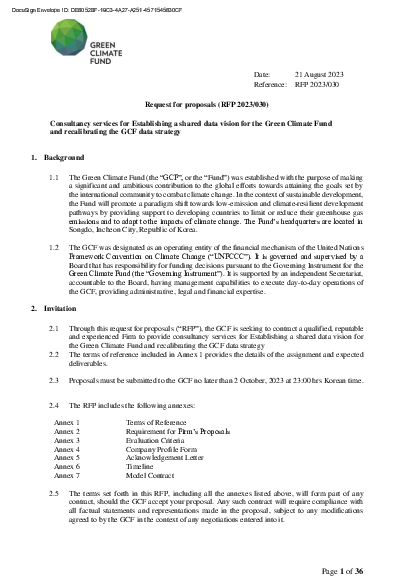 RFP 2023/030: Consultancy services for Establishing a shared data vision for the Green Climate Fund and recalibrating the GCF data strategy
Submissions to this procurement notice has ended.
The GCF is seeking to contract a qualified, reputable and experienced Firm to provide consultancy services for Establishing a shared data vision for the Green Climate Fund and recalibrating the GCF data strategyThe Terms of Reference included in Annex 1 of RFP solicitation document attached provides the details of the assignment and expected deliverables. A Pre-Proposal meeting will be held via MS Teams on 5 September, 2023 at 09:00 hrs and 16:00 hrs Korean Time for the purpose of providing background information on the RFP.
Proposals must be submitted to the GCF no later than 2 October 2023, 2300 hrs Korean Time.
Publication date
21 August 2023