RFP 2022/021: Provision of Consultancy Services for Support to GCF Secretariat in Development of Video Training Module for GCF Project/Programme's Logical Framework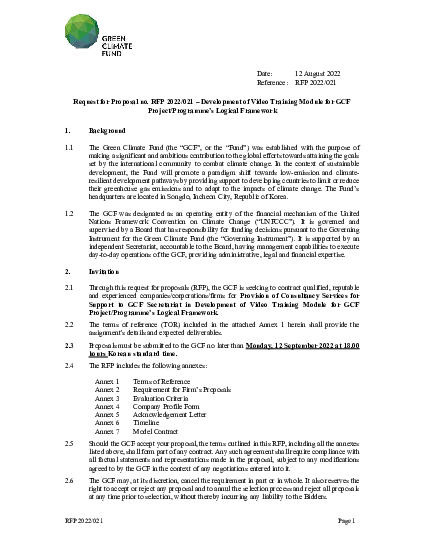 RFP 2022/021: Provision of Consultancy Services for Support to GCF Secretariat in Development of Video Training Module for GCF Project/Programme's Logical Framework
Submissions to this procurement notice has ended.
Green Climate Fund (GCF) seeks to contract qualified, reputable and experienced companies/corporations/firms for the Provision of Consultancy Services for Support to GCF Secretariat in the Development of Video Training Module for GCF Project/Programme's Logical Framework.
As a result of this consultancy, the Secretariat can deliver effective guidance on the changes in the GCF project/programme's logical framework resulting from the Integrated Results Management Framework (IRMF) and implement capacity-building activities to strengthen monitoring and evaluation activities and processes.
The terms of reference (TOR) in Annex 1 of the RFP package shall provide the assignment's details and expected deliverables.
Proposals must be submitted to the GCF no later than Monday, 12 September 2022, at 18.00 hours Korean standard time.
Publication date
12 August 2022