RFP 2021/012: Technical Advisory Support to Armenia on Enabling the Uptake of Electric Vehicle Mobility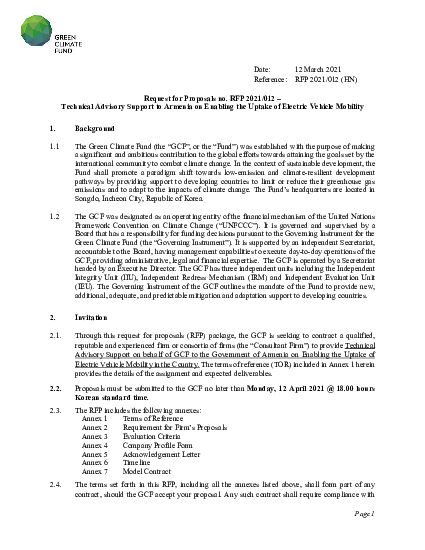 RFP 2021/012: Technical Advisory Support to Armenia on Enabling the Uptake of Electric Vehicle Mobility
The GCF is seeking to contract a qualified, reputable and experienced firm or consortia of firms (the "Consultant Firm") to provide Technical Advisory Support on behalf of GCF to the Government of Armenia on Enabling the Uptake of Electric Vehicle Mobility in the Country. The terms of reference (TOR) included in Annex 1 of the RFP package provides the details of the assignment and expected deliverables.
A prospective Tenderer requiring any clarification of the solicitation documents may notify the GCF in writing to the e-mail address [email protected]  and copied to [email protected] by the specified date and time mentioned in Annex 6. The subject line of the e-mail MUST have the reference number and title of the RFP - i.e. RFP 2021/012 – Technical Advisory Support to Armenia.
The GCF shall respond in writing to any request for clarification of the solicitation documents that it receives by the due date published in Annex 6. Written copies of the GCF response which contain information that may be of common interest to all Tenderers (including an explanation of the query but without identifying the source of inquiry) shall be posted on the GCF website and/or communicated via email.
Proposals must be submitted to the GCF no later than Monday, 26 April 2021 @ 18.00 hours  Korean standard time. [NOTE: The closing date was revised from Monday, 12 April 2021]
Publication date
12 March 2021