RFP 2019/S/021: RFP 2019 S 021 Hotel Rooms for Global Programming Conference 2019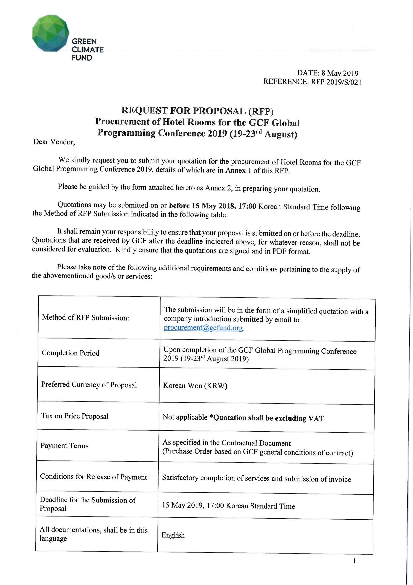 RFP 2019/S/021: RFP 2019 S 021 Hotel Rooms for Global Programming Conference 2019
Submissions to this procurement notice has ended.
GCF is requesting quotations for the procurement of hotel rooms for the GCF Global Programming Conference 2019, details of which are in Annex 1 of this RFP.
Quotations may be submitted on or before 15 May 2018, 17:00 Korean Standard Time following the Method of RFP Submission indicated in the following table.  
Note: this RFP is open only to the hotels located in Incheon due to the location of the conference.
Publication date
08 May 2019
Reference #
RFP 2019/S/021