RFP 2019/C/041: Provision of Project Preparation Services through GCF Project Preparation Facility (PPF)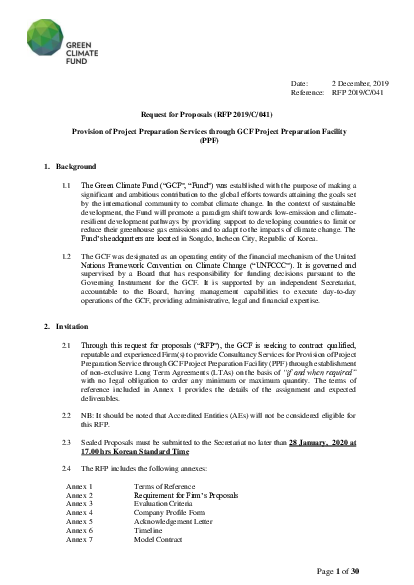 RFP 2019/C/041: Provision of Project Preparation Services through GCF Project Preparation Facility (PPF)
Submissions to this procurement notice has ended.
GCF is seeking to contract qualified, reputable and experienced Firm(s) to provide Consultancy Services for Provision of Project Preparation Service through GCF Project Preparation Facility (PPF) through establishment of non-exclusive Long Term Agreements (LTAs) on the basis of "if and when required" with no legal obligation to order any minimum or maximum quantity.
The objectives of the assignments are to strengthen the technical network and capacity of GCF AEs, especially DAEs, in reaching out to quality project preparation services for conducting studies and activities needed to prepare for a high-qualify Funding Proposal for the consideration of the GCF. The GCF anticipates that there will be around 15-20 separate requests during the duration of assignment with increasing demand expected going forward.
The deadline for submission of proposals is Tuesday 28 Janauary 2020 at 17:00 Hrs Korean Standard Time. 
Publication date
02 December 2019
Reference #
RFP 2019/C/041