RFP 2019/C/019: Consultancy services for review of Funding Proposals (FP) for projects and programs to be funded by the Green Climate Fund from Environmental and Social Safeguards, Gender equality and Indigenous Peoples perspectives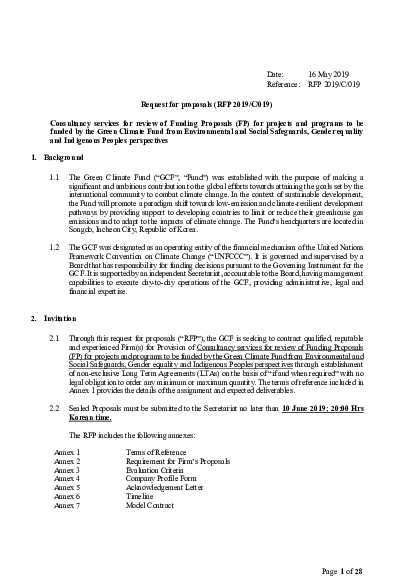 RFP 2019/C/019: Consultancy services for review of Funding Proposals (FP) for projects and programs to be funded by the Green Climate Fund from Environmental and Social Safeguards, Gender equality and Indigenous Peoples perspectives
Submissions to this procurement notice has ended.
The Green Climate Fund (GCF) is seeking to contract qualified, reputable and experienced Firm(s) for Provision of Consultancy services for review of Funding Proposals (FP) for projects and programs to be funded by the Green Climate Fund from Environmental and Social Safeguards, Gender equality and Indigenous Peoples perspectives through establishment of non-exclusive Long Term Agreements (LTAs) on the basis of "if and when required".
Please note that the submission deadline for RFP 2019/C/019 is extended until 17 June 2019; 17:00 Hrs Korean Time.
Publication date
16 May 2019
Reference #
RFP 2019/C/019