RFP 2019/C/014: Consultancy Services for the review of the Information Disclosure Policy (IDP)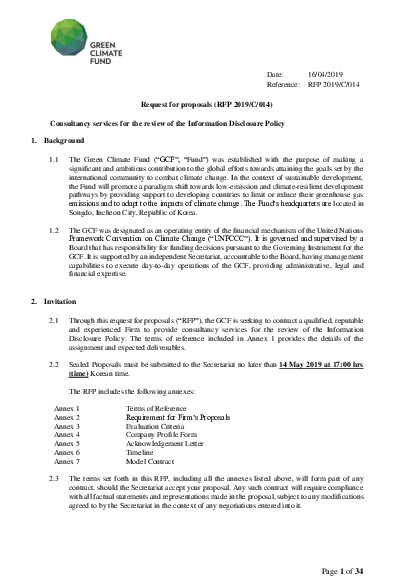 RFP 2019/C/014: Consultancy Services for the review of the Information Disclosure Policy (IDP)
Submissions to this procurement notice has ended.
The Green Climate Fund ("GCF", "Fund") was established with the purpose of making a significant and ambitious contribution to the global efforts towards attaining the goals set by the international community to combat climate change. In the context of sustainable development, the Fund will promote a paradigm shift towards low-emission and climate-resilient development pathways by providing support to developing countries to limit or reduce their greenhouse gas emissions and to adapt to the impacts of climate change. The Fund's headquarters are located in Songdo, Incheon City, Republic of Korea.
Through this request for proposals ("RFP"), the GCF is seeking to contract a qualified, reputable and experienced Firm to provide consultancy services for the review of the Information Disclosure Policy. The terms of reference included in Annex 1 provides the details of the assignment and expected deliverables.
Sealed Proposals must be submitted to the Secretariat no later than 14 May 2019 at 17:00 hrs (time) Korean time.
Publication date
16 April 2019
Reference #
RFP 2019/C/014