RFP 2017/S/012: Provision of translation services to the Green Climate Fund Secretariat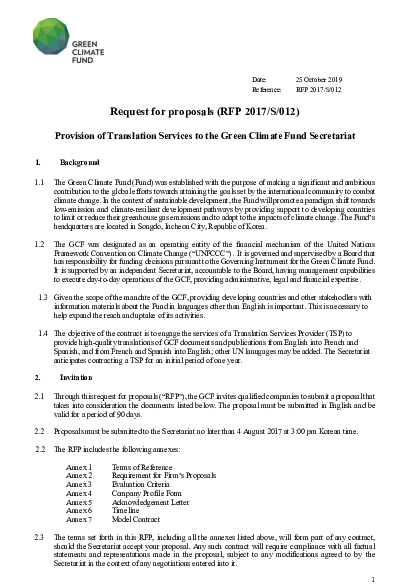 RFP 2017/S/012: Provision of translation services to the Green Climate Fund Secretariat
Submissions to this procurement notice has ended.
Given the scope of the mandate of the GCF, providing developing countries and other stakeholders with information materials about the Fund in languages other than English is important. This is necessary to help expand the reach and uptake of its activities.
The objective of the contract is to engage the services of a Translation Services Provider (TSP) to provide high-quality translations of GCF documents and publications from English into French and Spanish, and from French and Spanish into English; other UN languages may be added. The Secretariat anticipates contracting a TSP for an initial period of one year.
Publication date
14 July 2017
Reference #
RFP 2017/S/012