EOI 2019/S/003: Provision of managed ICT network and workplace services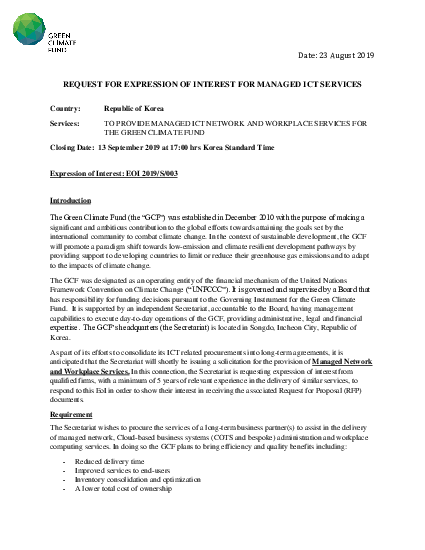 EOI 2019/S/003: Provision of managed ICT network and workplace services
Submissions to this procurement notice has ended.
The Green Climate Fund (the "GCF") was established in December 2010 with the purpose of making a significant and ambitious contribution to the global efforts towards attaining the goals set by the international community to combat climate change. In the context of sustainable development, the GCF will promote a paradigm shift towards low-emission and climate resilient development pathways by providing support to developing countries to limit or reduce their greenhouse gas emissions and to adapt to the impacts of climate change. 
The GCF was designated as an operating entity of the financial mechanism of the United Nations Framework Convention on Climate Change ("UNFCCC"). It is governed and supervised by a Board that has responsibility for funding decisions pursuant to the Governing Instrument for the Green Climate Fund.  It is supported by an independent Secretariat, accountable to the Board, having management capabilities to execute day-to-day operations of the GCF, providing administrative, legal and financial expertise.  The GCF's headquarters (the Secretariat) is located in Songdo, Incheon City, Republic of Korea. 
As part of its efforts to consolidate its ICT related procurements into long-term agreements, it is anticipated that the Secretariat will shortly be issuing a solicitation for the provision of Managed Network and Workplace Services. In this connection, the Secretariat is requesting expression of interest from qualified firms, with a minimum of 5 years of relevant experience in the delivery of similar services, to respond to this EoI in order to show their interest in receiving the associated Request for Proposal (RFP) documents.
Publication date
23 August 2019
Reference #
EOI 2019/S/003