GCF-1
progress

report

GCF's first replenishment period 2020-2023

Download Report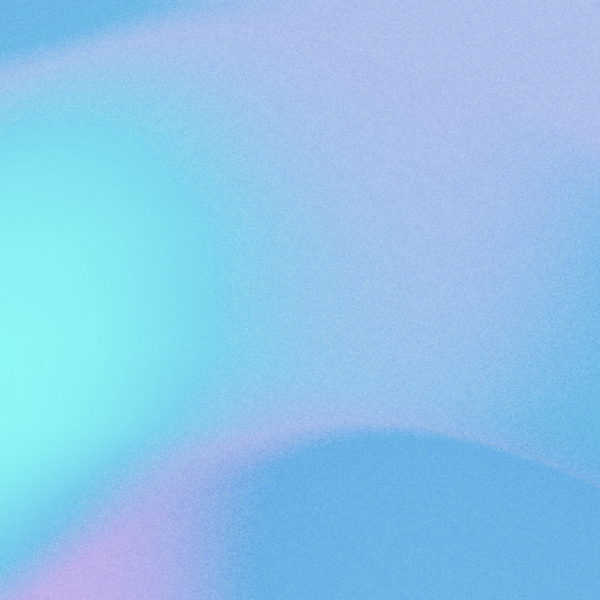 Catalysing finance for climate solutions
Established in 2010 under the Cancún Agreements as a dedicated financing vehicle for developing countries, The Green Climate Fund (GCF) serves the financial mechanism of the United Nations Framework Convention on Climate Change (UNFCCC) and the Paris Agreement. From 2015 to 2019, during its initial resource mobilisation (IRM) period, GCF rapidly grew, building a portfolio and establishing the Secretariat at its headquarters in the Republic of Korea.
This report provides an overview on progress made in the first replenishment period (GCF-1) with a focus on 2022. GCF-1 saw significant growth in the GCF portfolio with more than 200 projects and over USD 12 billion in GCF resources at the time of publication. It also saw the continued growth and maturation of GCF with increased operational and institutional capacity.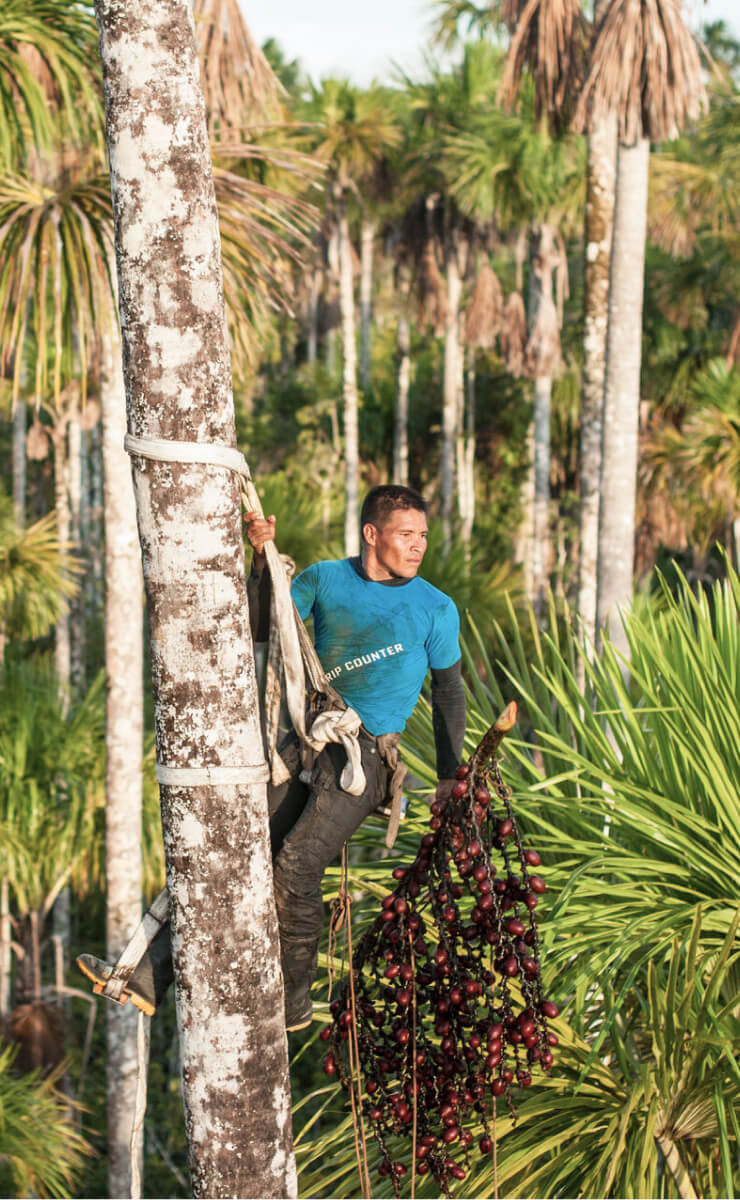 More importantly, GCF-1 saw the evolution of GCF from a funding channeler to a climate finance catalyser. Recognising the barriers developing countries face in obtaining climate finance, GCF is using its funds to accelerate green market creation and unlock the financial flows needed by developing countries to achieve their climate ambitions. With its 200+ strong global network of public- and private- sector partners, GCF has become the hub of the climate finance architecture, building unprecedented coalitions and investments for global climate action.
Now in its last year of GCF-1, GCF is ramping up its ambitions for the second replenishment period (GCF-2). Looking ahead, GCF will help drive systemic transitions in critical areas of global concern – energy, sustainable food systems, climate-resilient infrastructure and biodiversity protection.GCF is in a stronger position than ever to support developing countries in the transition to a low-emission climate-resilient world.
This report focuses on the progress of the GCF-1 period (2020-2023) until 31 December 2022. For information on previous years, please see the GCF Annual Results Report 2020 and GCF Annual Results Report 2021. For information on GCF's initial resource mobilisation (IRM) period, please see the GCF Initial Resource Mobilisation Progress Report (2015-2019).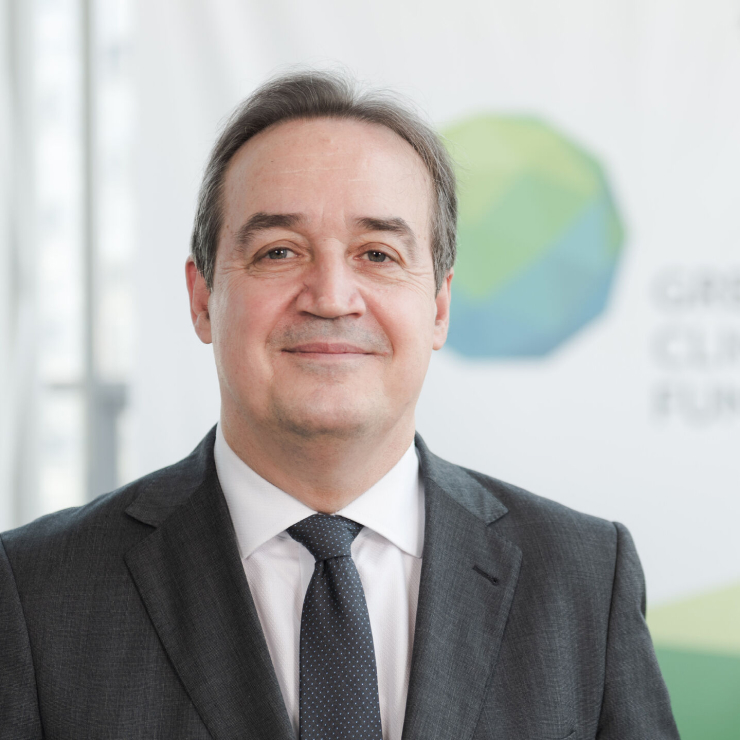 GCF has come a long way. We are the hub of the climate finance architecture, delivering transformative projects for developing countries. I am delighted the Board has selected Mafalda Duarte, a proven climate leader, as my successor.
Climate
Innovation
Cycle
Creating an enabling environment for climate action
Accelerating innovation
Mobilising financing at scale
Greening the financial sector
Transformative innovation is needed to shift the needle from the status quo to a low-emission, climate-resilient path. GCF's unique approach, based on four complementary pathways, unlocks climate innovation and investment for a sustainable future for people and planet.
Creating an enabling environment for climate action – GCF helps countries develop integrated climate strategies and policies to establish a conducive environment for investments in new climate solutions.
Accelerating innovation – GCF invests in new technologies, business models, and practices to facilitate the emergence of new climate solutions in the market; it supports incubators and accelerators and provides early growth finance.
Mobilising financing at scale – GCF leverages its resources to bring innovations to scale. It de-risks projects to crowd in private finance from risk-averse investors into new markets and supports early-mover projects to help establish a track record, enabling financiers to reprice risk.
Greening the financial sector – GCF builds the capacity of domestic financial institutions in developing countries to mainstream climate risks and opportunities in their investment decision making, and to access capital markets.
Access
- making climate finance work for developing countries
Recognising that developing countries face multiple challenges to accessing climate finance, GCF works across several areas to ensure that funds for climate action reach those who need it most.
Volume
GCF leverages scarce public resources to mobilise wider financial flows from public and private sectors and supports developing countries to access capital for climate action without increasing unsustainable debt. Through its use of blended finance, risk appetite and partnership network, GCF can foster coalitions and investment platforms to catalyse financing.
Speed
GCF has made huge strides to speed up the delivery of funds to developing countries, programming funds to new projects as quickly as they are received from contributors. GCF has also improved its operational efficiency, becoming the fastest source of climate finance for large-scale projects (>USD 250 million). It is accelerating financing for small-scale projects with updates to its Simplified Approval Process (SAP) and the new Project-specific Assessment Approach (PSAA).
Simplicity
GCF has streamlined its funding processes to increase predictability and transparency and is providing more programming guidance, project design and assessment tools to ease the application process while facilitating the delivery of high-quality proposals. All of this help to improve the quality of proposals submitted to GCF and streamline the project review process.
Harmonisation
GCF is capitalising its position as the climate finance hub to harmonise processes among climate funds to make it easier for developing countries to navigate the climate finance landscape. For example, through its Long-term Vision on Complementarity and Coherence with the Global Environment Facility (GEF), GCF is working with GEF to coordinate programming approaches to harmonise application processes and to share practices among the climate funds.
Direct access
GCF supports developing countries seeking direct access to funding from GCF and other climate funds. In Vanuatu and the Federated States of Micronesia, GCF is decentralising climate finance by providing grants of up to USD 250 million to local climate funds, which are then channeled to community projects. GCF is also increasing the share of programming channeled via direct access entities. Its Readiness Programme helps build the capacity of direct access entities to get accreditation and project funding.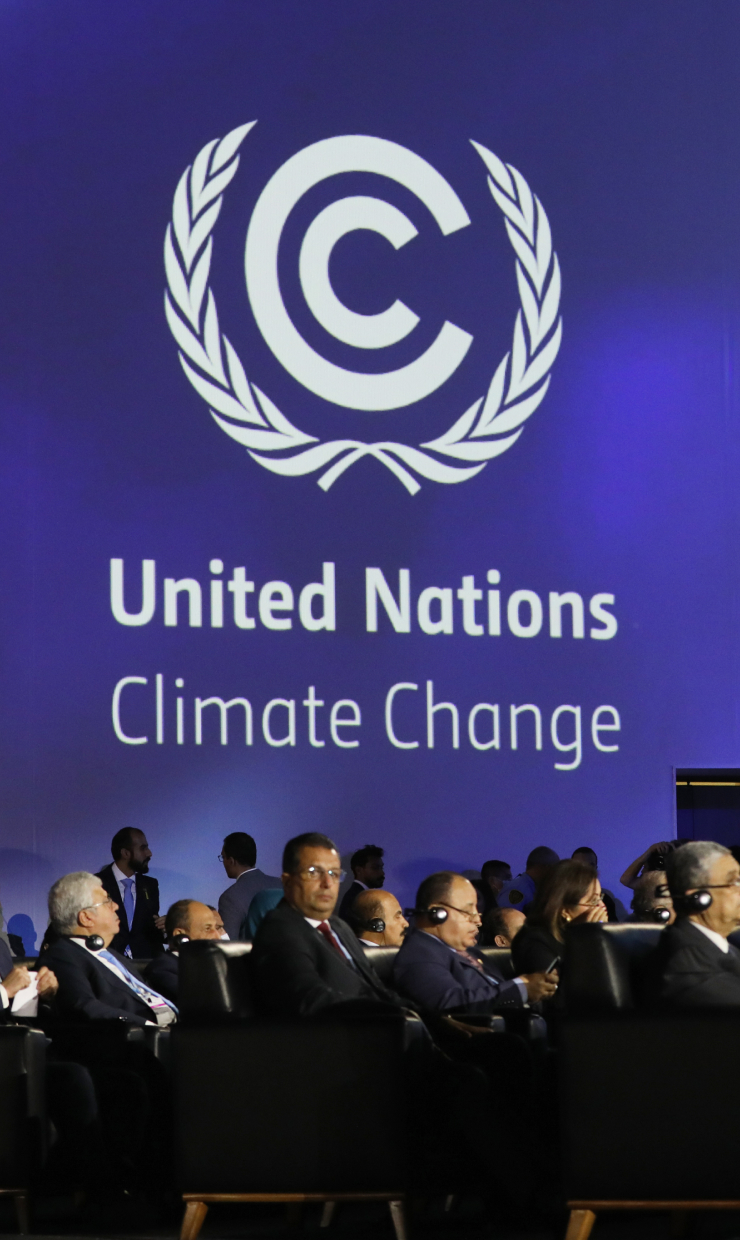 The Conference of the Parties [COP] urges developed country Parties to provide resources for the second replenishment of the Green Climate Fund while demonstrating progression over previous replenishments.
Sharm el-Sheikh Implementation Plan 2023
UN Framework Convention on Climate Change (UNFCCC)
GCF snapshot (in USD)
0
Total value of approved projects
0
Developing countries with approved projects
0
Projects under implementation worth USD 9.2b of GCF funding
0
GCF funding disbursed for projects under implementation
Approved projects value by theme
(Grant equivalent*)
Approved projects value by priority countries
113 Accredited Entities
*Nominal values are used throughout unless it is indicated that figures are grant equivalent. The grant equivalent calculator tool, developed by the Office of Risk Management and Compliance of GCF, converts the value of different grant and non-grant instruments into a comparable grant equivalent value. The grant equivalents were estimated for each project using a uniform 5 per cent discount rate.
Delivering climate action
Fostering a Paradigm-shifting Portfolio
GCF supports developing countries in originating and developing transformational climate projects. In GCF-1, GCF's programming support became more proactive with the Fund providing direct support for project design and structuring; collaborating with partners on innovation and technology; and leveraging its risk appetite and financial instruments to catalyse financing.
The portfolio significantly diversified in GCF-1 with the approval of several flagship projects and programmes - many of them novel, cross-cutting or multi-country programmes that use nature-based approaches, introduce innovation and new technologies, mobilise private-sector finance, or help local communities become climate resilient.
The portfolio significantly grew in GCF-1, doubling in size and reaching the USD 10 billion mark in 2021. In 2022, GCF committed an additional USD 1.4 billion for 19 new projects.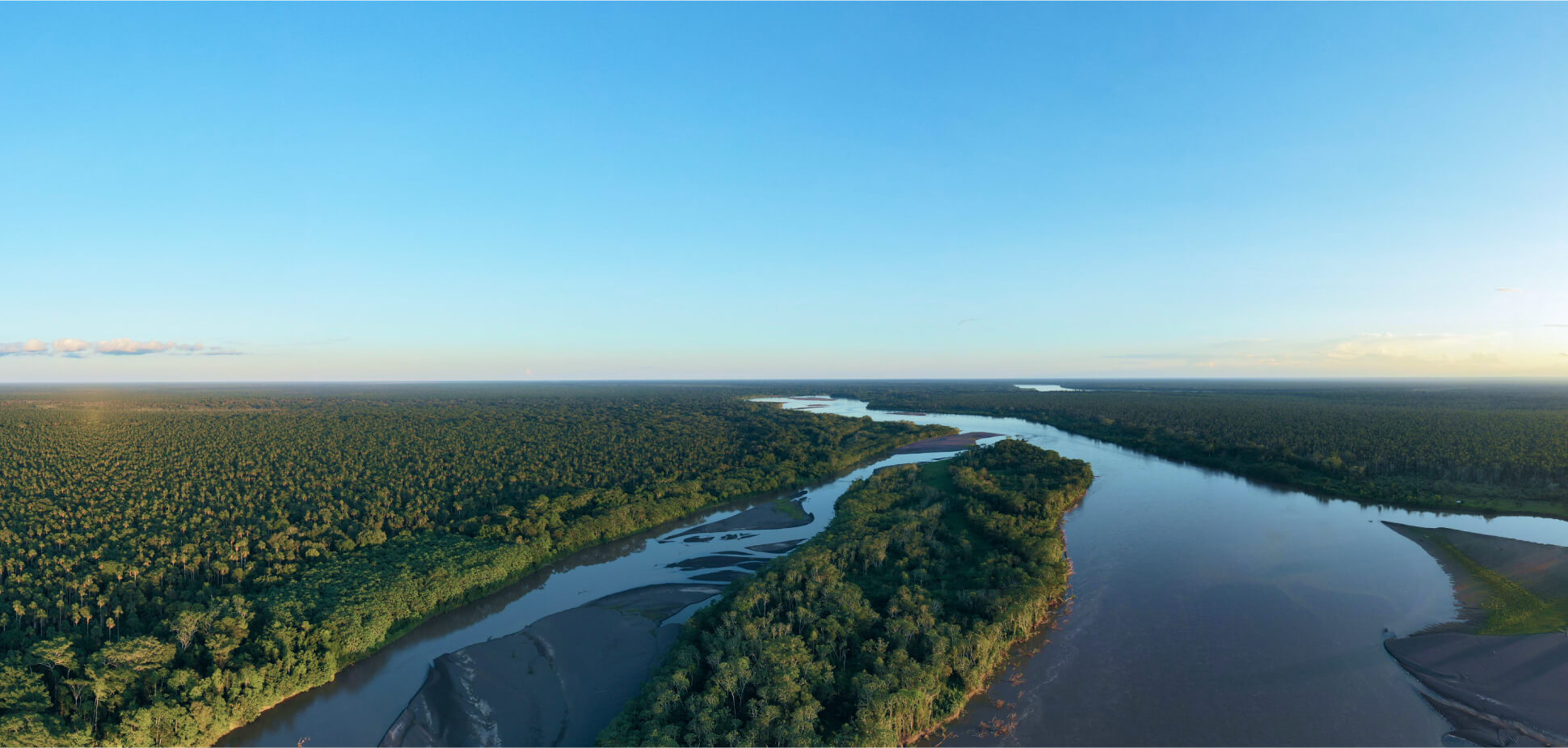 Datem del Marañon, Peru, one of the largest and most biodiverse ecosystems in the world. Photo: Profonanpe
As of the end of 2022, GCF has committed a total of USD 11.4 billion of its resources - USD 42.8 billion with co-financing - to 209 projects in 128 countries.
The GCF portfolio has been maturing with 87 per cent of its projects under implementation (by number of approved projects), passing the USD 9 billion mark in 2022. Disbursements to projects surpassed USD 3 billion, more than tripling the volume of resources deployed on the ground since the initial resource mobilisation (IRM) period.
To date, GCF's portfolio has delivered 63 MtCO2e of reduced emissions and benefitted 57 million people directly and indirectly. The total portfolio is expected to deliver 2.4 bMtCO2e of reduced emissions and reach 666 million beneficiaries.
GCF portfolio evolution and growth
In 2022, the Board approved nearly USD 1.43 billion in GCF funding for new climate projects. By 2023, the portfolio is expected to reach USD 13.5 billion.
Project impact story
On the frontlines of climate change:
Financing the largest community-based adaptation project in Vanuatu
We women depend on fishing along the coastline to provide fish for our families but most of our catch now are much smaller than the ones we caught here the past years.

Jennie Jenery
Villager from Efate Island in Vanuatu
Vanuatu, home to approximately 320,000 people, is the most highly exposed country to natural hazards. The Vanuatu community-based climate resilience project (VCCRP) targets highly vulnerable communities with locally led adaptation activities in the agriculture and fisheries sector across the country.
Improving access to GCF resources
Enabling developing countries' access to GCF resources affirms GCF's approach of working with and through partners for climate action. Recognising the key role of Accredited Entities (AEs) in delivering impact, GCF's strategic plan focuses on accreditation as the main window of enabling access to GCF resources.
The first half of GCF-1 saw GCF building its AE network with a focus on increasing the share of DAEs. GCF accredited 20 AEs in GCF-1, of which 17 are DAEs. In 2022, eight AEs upgraded their accreditation scope, with a total of 114 AEs approved. The AE network has been diversified to include more national public development banks, and private commercial, trade, and infrastructure banks.
Since re-accreditation began in 2021, 2022 saw an additional 14 AEs re-accredited. It is expected more AEs will seek re-accreditation while new applicants continue to seek accreditation. An accreditation strategy adopted in 2022 provides a preliminary framework for managing the accreditation pipeline.
Steps were taken to simplify and enhance GCF's accreditation processes including the adoption of an updated accreditation framework and the Project-specific Assessment Approach (PSAA) that combines assessments for accreditation and proposal approval processes in a fit-for-purpose manner. Set to launch on a pilot basis in 2023, PSAA will serve as a key avenue for engaging partners that may not require full-term accreditation to programme with GCF. Finally, the Digital Accreditation Platform was launched, which will increase efficiency and transparency of the accreditation.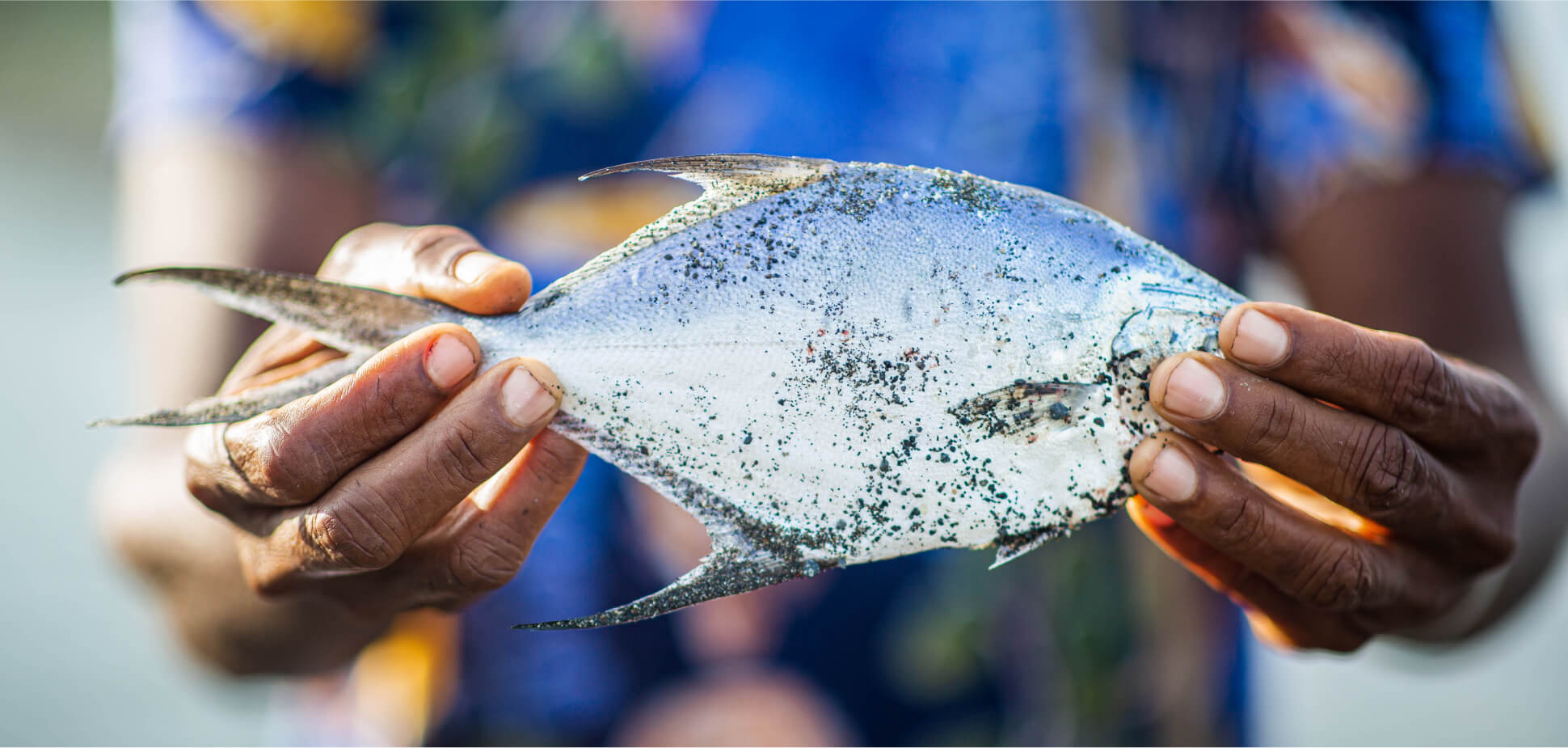 Fishers in West Santo Province, Vanuatu are seeing decreasing fish sizes in their catch. Photo: Nikiatu Kuautonga/Save the Children
GCF has broadened its understanding of access, looking beyond accreditation and taking on a more systematic view of access as a multidimensional issue. Besides accreditation, GCF is working across several areas to increase access to resources that includes simplifying its funding processes and harmonising criteria and processes with other funds. For more information, see Access – making climate finance work for developing countries.
Catalysing private sector mobilisation at scale
With climate investment needs outweighing the availability of public funding, it is imperative to catalyse wider financial flows to meet developing countries' climate ambitions. GCF mobilises private sector engagement and finance through its Private Sector Facility (PSF). PSF supports de-risking and structuring to mobilise resources; greens local financial systems and engages with local private sector actors; and explores ways to enhance the private sector's role in adaptation.
In 2022, the PSF portfolio, a subset of the overall GCF portfolio, grew by USD 530 million and six funding proposals, representing around 36 per cent of programming in 2022 in nominal terms (25 per cent in grant-equivalent terms). This brings private sector programming to a total of USD 3.9 billion out of the USD 11.4 billion of the GCF portfolio.
The year 2022 continued to see innovative private sector programming with novel proposals approved such as GCF's first at-scale private sector programmes in water and sanitation (FP190) and low-carbon transport sectors (FP186) and grant support for technology incubators and accelerators in Latin America and West Africa (FP198).
GCF adopted a private sector strategy in 2022, which outlines GCF's approach to the development of climate markets while aligned with GCF's country-driven approach.
GCF also held the fifth annual GCF Private Investment for Climate Conference (GPIC) in September 2022. Held back-to-back with the Global Programming Conference (GPC), it provided a key opportunity to convene and build alliances between global leaders, executives, experts, and thought leaders from governments, financial institutions, and companies to accelerate private sector participation in climate action in developing countries.
Project impact story
The voices of Datem del Marañon:
How GCF is protecting one of the most biodiverse ecosystems in the world
Before this project, we did not know how to harvest the tree. Our ancestors used to cut it down. This new technique is much more efficient. When we harvest, we preserve branches so that animals can feed.

Segundo Chanchari
Aguaje palm tree escalation technician
The Datem del Marañon project helps indigenous communities in a northern Peruvian province manage their wetland resources in ways that avoids deforestation and the large-scale release of greenhouse gases stored in local peatlands.
Strengthening country ownership of programming
GCF empowers developing countries to identify, design, and implement projects that support paradigm shift in areas that will have the greatest climate impact.
GCF's support programmes, Readiness Programme and Project Preparation Facility (PPF), have evolved in GCF-1 with Readiness going beyond capacity building to helping countries translate their climate priorities into planning, policy and investment responses. Readiness activities currently involve supporting NDC implementation strategies, technology assessments and action plans, and private sector engagement.
As the largest capacity building programme of its kind, the Readiness Programme has supported 141 countries with grants totalling over USD 450 million as of the end of 2022.
Meanwhile, PPF has been steadily generating results with a total of 15 funding proposals approved to date after receiving PPF support.
In GCF-1, GCF began reviewing Readiness and PPF support to further improve their performance and impact. A revised Readiness strategy is under development and operational improvements were made in 2022 with updating of the Readiness Guidebook and SOPs, which will increase transparency and efficiency of grant processes for partners.
Recognising more systematic guidance and support are needed for country NDC investment planning, GCF has been updating its support for NDC and NAP implementation, resulting in an initial pilot effort to enhance investment planning by Egypt. With GCF's support, Egypt is developing its first climate investment plan. Based on this pilot, GCF will explore ways to replicate this approach through the Readiness Programme.
GCF is also looking at a more systematic way to increase Direct Access Entity (DAE) programming capacity. While GCF-1 saw proposals approved by 11 new DAEs and DAE programming making up 24 per cent of GCF-1 programming (in grant-equivalent terms), there is need for a more systematic approach to support DAE programming capacity beyond accreditation.
Global
Programming
Conference
As part of ongoing efforts to promote more dialogue between GCF and its country and delivery partners, GCF convened the Global Programming Conference in September 2022. Inputs were provided by stakeholders to inform investment planning and programming priorities for GCF's second replenishment period, as well as on GCF's revised strategy and operational improvements of its Readiness Programme.
Developing country ministers and high-level officials at GCF Global Programming Conference (GPC) 2022. Photo: Dotplanner/GCF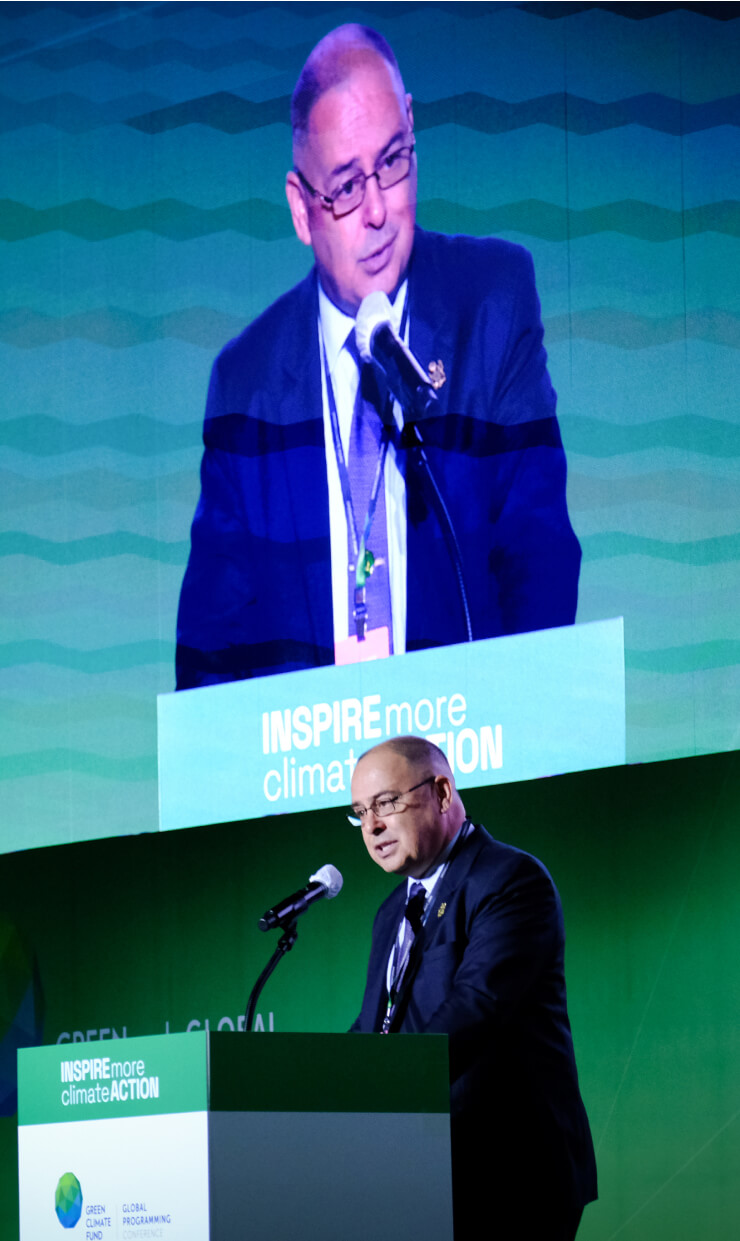 We look forward to the enhanced financial instruments that GCF has now developed to allow countries like us to be able to take advantage of and to be able to use the resources to build resilience against climate change.
Mark Brown
Prime Minister, Cook Islands
Working Smarter and Faster
Throughout GCF-1, GCF has made significant progress in strengthening its operational and institutional capacity to better deliver climate action. Initiatives to improve operational performance such as simplification, streamlining, codification, and digitalisation have borne fruit with increased efficiency and effectiveness. Processing times for funding proposals have seen downward trends
Average time from project approval to first disbursement fell from 19 months in 2019 to under 11 months in 2022.
With a maturing portfolio, GCF continues to build its portfolio and results management capacities. In 2022, GCF operationalised the digital Portfolio Performance Management System (PPMS) and reviewed its Risk Management Framework (RMF) as part of efforts to increase risk management.
The Fund also made strides in its operational policies and guidelines. It closed all key policy gaps by releasing a complete suite of policies for programming, project cycle, administration, and financial management at the end of 2022.
Project impact story
Cambodia's climate action game-changer:
resilient agricultural value chains
I have just received a new rice variety this year [2020]. I planted it in June and harvested it in November. I'm thrilled to say that the increased yields were as high as I had hoped.

Sam Dany
Farmer in Kampong Cham Province
GCF is supporting the Cambodian Agricultural Research and Development Institute (CARDI) to develop and distribute climate-resilient varieties of rice and maize, two critical crops in Cambodia's agricultural sector.
Sustainability
and inclusion
To ensure positive impacts for the environment and society, GCF has an environmental and social policy, environmental and social safeguards standards, a gender policy, and an indigenous peoples policy. GCF's Indigenous People's Advisory Group (IPAG) had its first meeting in September 2022 and its second meeting in February 2023. These groundbreaking meetings provide a direct avenue for IPAG members to have a dialogue with GCF on programming and operations and to ensure support and inclusion of indigenous peoples in GCF's decision-making. GCF established the IPAG to enhance coordination between GCF, Accredited Entities and Executing Entities, governments, and indigenous peoples in relation to matters concerning indigenous peoples.
This meeting is a big statement that the Green Climate Fund is serious about working with indigenous peoples. We have moved from just being a stakeholder in the governing instrument to being a constituency that has a dedicated policy.
Kimaren Ole Riamit
Maasai leader and Director of the Indigenous Livelihoods Enhancement Partners (ILEPA)
GCF-1
priorities
Strengthen country ownership of programming
Foster a paradigm-shifting portfolio
Catalyse private sector finance at-scale
Improve access to GCF resources
GCF's
long-term
vision
Promote the paradigm shift towards low-emission and climate-resilient development pathways in the context of sustainable development.
Support developing countries to raise and realise their climate ambitions in line with the objectives of the Paris Agreement and the UN Framework Convention on Climate Change.
Roadmap to
achieving
our vision
The Updated Strategic Plan 2020 – 2023 (USP), endorsed by the GCF Board in 2020, guides GCF in addressing policy gaps, programming, and investing resources in paradigm-shifting climate actions in a country-driven manner for the first replenishment period (GCF-1). The USP sets out strategic objectives, guidelines for resource allocation, and strategic, operational and institutional priorities for GCF to achieve its long-term vision.
GCF-1
Outcomes
(2020–2023)
Balanced, scaled-up funding between adaptation and mitigation, with a 50 per cent adaptation 'floor' reaching the most vulnerable countries (Least Developed Countries, Small Island Developing States and African States).
Significant increase in direct access funding, working directly with local, national, and regional organisations that are close to the ground in developing countries, alongside work with larger, international entities.
Significant increase in mobilisation from the private sector, using GCF investments to leverage more private investments and increased share of programming resources that flow through GCF's Private Sector Facility.
Improved speed, predictability, efficiency, effectiveness and transparency to maximise the impact of GCF's climate action.
Deliver over 265 million tonnes of CO2 reductions or removals per billion dollars invested in mitigation and reach over 155 million beneficiaries for each billion invested in adaptation.

Louise Wangui, a smallholder farmer in Kenya uses solar energy to power her farm's irrigation pumps. Photo: Cesar Lopez Balan/GCF
GCF
historical
timeline
2010
GCF is established at COP16
2012
The Board, with a balance of developed and developing country members, holds its first meeting.
2013
The first Executive Director is appointed
GCF HQ is established in Incheon, Republic of Korea
2014
GCF commences its initial resource mobilisation (IRM) raising over USD 10b
2015
Funding for the first projects is approved by the GCF Board
The historic Paris Agreement is adopted, which GCF serves as a financial mechanism of the UNFCCC
2016
The GCF portfolio reaches USD 1.3b with 32 projects implemented by 48 Accredited Entities
2018
The Indigenous Peoples Policy is adopted at B.19
2019
GCF-1 Pledging Conference receives USD 9.8b in commitments
The Gender Policy, first adopted in 2015, is updated and adopted at B.24
2021
The GCF portfolio passes the USD 10b threshold, doubling in size in GCF-1.
GCF and GEF sign the Long-term Vision on Complementarity and Coherence collaboration
2022
The GCF portfolio reaches maturity with over 80 per cent of projects under implementation and over USD 3b disbursed
GCF hosts first Indigenous Peoples Advisory Group (IPAG) meeting
Administrative budget
GCF's administrative expenses for 2022, compared to total contributions (received and signed contribution agreements), are 0.4 per cent. These expenses cover the operations of the Secretariat (including staffing costs, contractual services, consultancies, and travel), as well as Board activities, and Trustee activities.
The Secretariat's costs for the year amounted to USD 65 million. They were allocated according to the breakdown in the chart. These numbers are unaudited. GCF's financial statements are audited each year by an independent auditor. These are usually available in the third quarter of the following year. Previous audited financial statements are available via g.cf/financialstatements.
GCF Secretariat 2022 Expenditure
Status of contributions
GCF's first replenishment (GCF-1: 2020 2023) is an important element of the financial commitments needed to deliver the Paris Agreement. By the end of 2022, contributors have pledged over USD 10 billion to GCF (based on GCF-1 reference exchange rate 100 per cent of these pledges have already been confirmed, with all 34 contributors having confirmed all pledges through the signing of contribution agreements, as indicated in the table, which uses a USD equivalent reference rate for individual contributions. The current status of contributions is available on the resource mobilisation section of the GCF website.




GCF financial flows (in USD billions*)