Simplified Approval Process (SAP) funding proposal preparation guidelines: A practical manual for the preparation of SAP proposals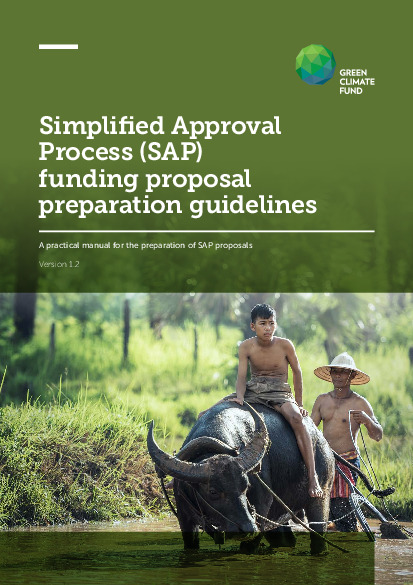 Simplified Approval Process (SAP) funding proposal preparation guidelines: A practical manual for the preparation of SAP proposals
These guidelines have been developed to support GCF accredited entities (AEs) in the preparation of funding proposals under the simplified approval process (SAP) pilot scheme.
This document provides general clarifications on the indicative content expected in a SAP funding proposal submitted to GCF. More specific guidelines on the type of activities by sector will be developed separately by the Secretariat.
This document refers to policies approved by the GCF Board in relation to the preparation of funding proposals, such as the results management framework, the performance measurement framework, the monitoring and accountability framework and the initial investment framework, among others.
As of June 2019, SAP Funding Proposals should be submitted using the SAP Online Submission System (OSS) available in the GCF Apps Portal. This guideline has been updated to be consistent with the OSS.
To compliment these guidelines the Secretariat has also released an e-learning course on how to develop a SAP funding proposal. The e-learning course is available on the GCF's dedicated e-learning platform.
This publication refers to version 1.2 of the SAP funding proposal template. Please note that while this document will be updated over time, it is possible that the future versions of the SAP funding proposal template might refer to different headings and field identification numbers. The SAP funding proposal template is downloadable on the GCF SAP webpage.
Cover date
31 December 2019
Document type
Publication Guides
Table of contents
Introduction
The GCF funding proposal package
Section A: Project/programme summary
Section B: Project/programme details
Section C: Financing information
Section D: Logic framework and monitoring, reporting and evaluation
Section E: Expected performance against investment criteria
Annexes to the funding proposal
8 steps to the Simplified Approval Process