Revised policy on the prevention and protection from Sexual Exploitation, Sexual Abuse, and Sexual Harassment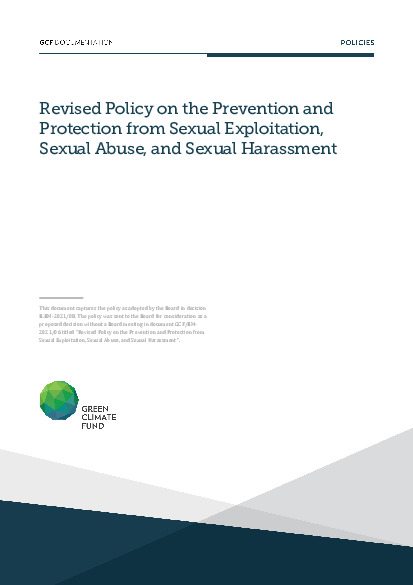 Download
English
|
PDF
|
566.78 KB
Revised policy on the prevention and protection from Sexual Exploitation, Sexual Abuse, and Sexual Harassment
GCF has zero tolerance for all forms of Sexual Exploitation, Sexual Abuse and Sexual Harassment (SEAH) in Fund related activities. SEAH violates human dignity and have always been unacceptable behaviour. SEAH is based on unequal relations and power dynamics resulting in a culture of discrimination and privilege. It creates hostile interpersonal relationships and work-related environments, which limit the ability of affected persons to thrive and GCF to achieve its mission. SEAH in any form is not acceptable at GCF.
GCF recognises the imperative to prevent and respond effectively to SEAH and to protect persons, especially persons in vulnerable positions and situations, and survivors of SEAH in all fund related activities. These protections are essential to strengthen integrity and accountability throughout GCF.
This policy forms part of a suite of GCF policies, including the Policy on Prohibited Practices, the Policy on the Protection of Whistleblowers and Witnesses, the Gender Policy (and its Action Plan), the Environmental and Social Policy (ES Policy), the Administrative Guidelines on Human Resources (especially section H on Harassment). These policies provide complementarity and work together to achieve the shared goal of zero tolerance for SEAH at GCF. The Secretariat will work with the Independent Redress Mechanism (IRM), the Independent Integrity Unit (IIU) and the Ethics and Audit Committee (EAC) to foster collaboration and coherence across the organisation, and to ensure staff understand appropriate roles, divisions of responsibility and redress mechanisms with regards to SEAH.
SEAH risk mitigation in all GCF financed activities (as described under the ES Policy) will be addressed through the relevant provisions of the ES Policy.
GCF will support entities it engages with to develop and implement policies and mechanisms that address Sexual Exploitation, Sexual Abuse and Sexual Harassment
Document type
Policies, strategies, and guidelines
Table of contents
Introduction
Scope
Definitions
Guiding principles
Obligations of covered individuals
Prevention and due diligence
Reporting and investigations
Protection and remedies
Policy implementation, monitoring, reporting, and review
Effective date