Readiness and preparatory support proposal template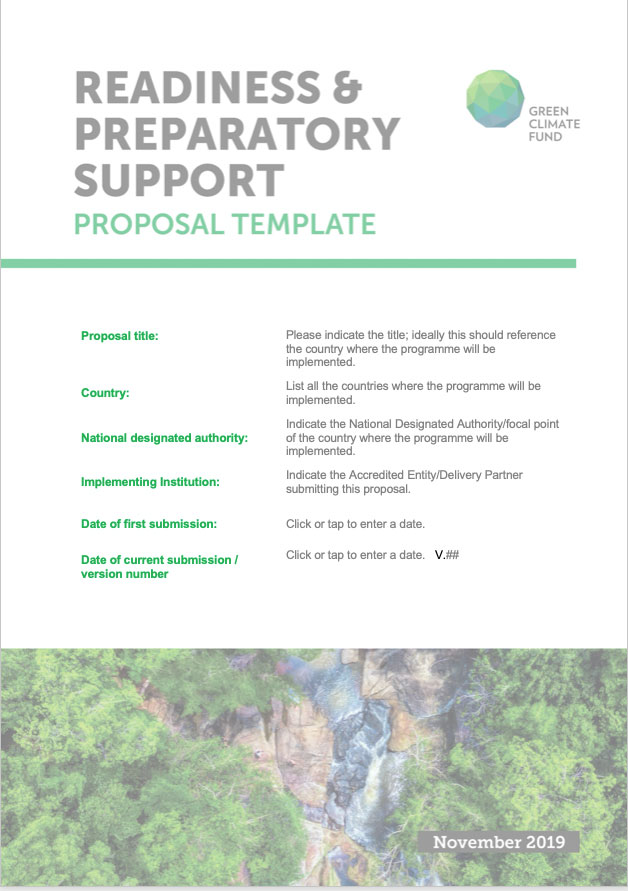 Download
Readiness and preparatory support proposal template
The Readiness and Preparatory Support Programme (the Readiness Programme) is a funding programme to enhance country ownership and access to GCF.
Applications are made by completing the this template as well as the readiness budget and procurement plan, which should then submitted to the GCF Secretariat.
The documents should be completed and submitted by the NDA or focal point with support from their delivery partner where relevant. The readiness support template guidance provides detailed information on completing the template.
If the Delivery Partner implementing the Readiness support is not a GCF Accredited Entity for project Funding Proposals, please complete the Financial Management Capacity Assessment (FMCA) questionnaire and submit it prior to or with this Readiness proposal.
If you are not sure how to complete this document, or require support, please send an e-mail to [email protected]. You can also complete as much of this document as you can and then send it to [email protected], copying both the Readiness Delivery Partner and the relevant GCF Country Dialogue Specialist and Regional Advisor. Please refer to the Country Profiles page of the GCF website to identify the relevant GCF Country Dialogue Specialist and Regional Advisor. We will get back to you within five (5) working days to acknowledge receipt of your submission and discuss the way forward. 
 
Cover date
30 November 2019
Table of contents
Summary
Background
Logical framework and implementation schedule
Additional information (only for adaptation planning support)
Budget, procurement, implementation, and disbursement
Implementation arrangements and other information