Post Accreditation Support for the National Fund for Environment and Climate (FNEC) of Benin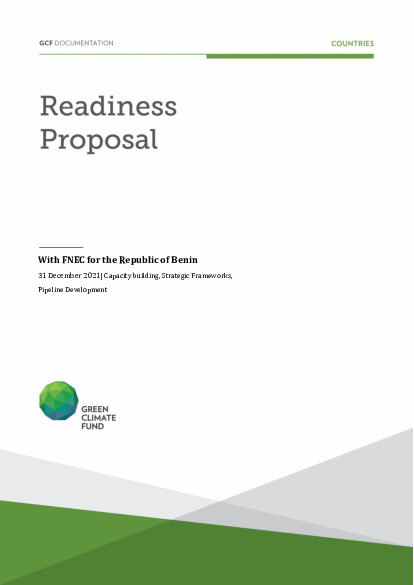 Download
Post Accreditation Support for the National Fund for Environment and Climate (FNEC) of Benin
This project specifically aims at addressing following gaps:
Weak synergy of action between FNEC and the AND;
Limited capacity in term of origination, development, and implementation of climate change related projects
Limited knowledge on climate change, particularly climate project justification
Lack of FNEC's Portforlio and pipeline , or pipeline of projects for the GCF
Weak capacity of relevant actors and FNEC staff to develop climate proposals that meet the standards of the different funds.
Absence of operation manual to guide its work in effective and efficient manner
Low rate of disbursement to the Green Climate Fund
Against this background, The project aims at:
Strengthening the capacity of FNEC to identify, prioritize, develop, monitor, and evaluate projects for the GCF.
Endowing FNEC's with an operational manual and procedure that is in line with best practice including the GCF requirement in the context of project development
Assessing and enhancing the knowledge and understanding of CCs at the FNEC level, in particular the application of a climate rationale in the development of projects
Identifying and developing adaptation and mitigation programs / projects that are part of national priorities and align with the GCF results management framework
The main beneficiaries of this project are the FNEC and its staff involved in the process of resource mobilization, project monitoring, evaluation, and financial management as well as the NDA.
Cover date
31 December 2021
Document type
Approved readiness proposal
Organisation
National Fund For Environment and Climate