Information Disclosure Policy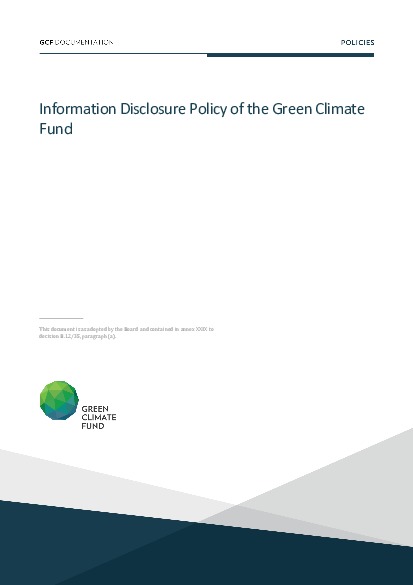 Download
English
|
PDF
|
528.86 KB
Information Disclosure Policy
This document sets out the policy of GCF regarding the information that it makes available to the public either as a routine matter or upon request, and applies to all information produced by or in the possession of GCF.
This document captures the policy as adopted by the Board in decision B.12/35. The policy was sent to the Board for consideration at B.12 in document GCF/B.12/24 titled "Comprehensive Information Disclosure Policy of the Fund".
All decisions and documents adopted at B.12 can be found in document GCF/B.12/32 titled "Decisions of the Board – Twelfth Meeting of the Board, 8‐10 March 2016".
Document type
Policies, strategies, and guidelines
Table of contents
Objective and scope
Definitions
Principles
Standard of disclosure
Exceptions to presumed disclosure
Overrides
Language of Disclosure
Implementation aspects of this Policy
Timelines for responding to requests
Summary of disclosure standards for key GCF documents
Appeal mechanism
Submission of appeals and notification of decisions
Effective date
Miscellaneous
Report and review