Increasing Private Sector Involvement in the Transition towards a Low-Carbon and Climate Resilient Economy in Burundi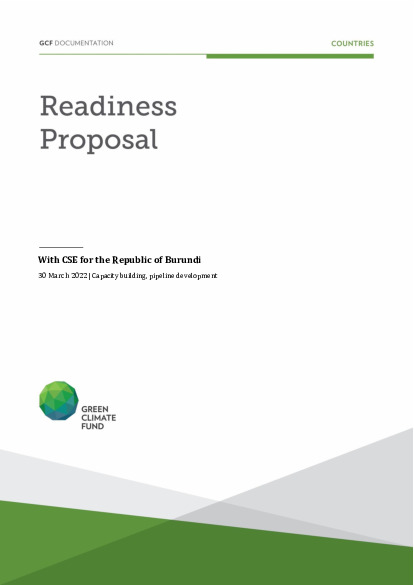 Download
Increasing Private Sector Involvement in the Transition towards a Low-Carbon and Climate Resilient Economy in Burundi
Burundi has completed a GCF readiness grant aimed at strengthening the NDA to better perform the coordination role for climate change initiatives and the establishment of a sustainable mechanism of engaging key stakeholders, including women groups and the private sector in climate finance decision-making. However, it was discovered that investments in climate change are not yet well understood by the private sector. This makes it difficult for the private sector to integrate GCF initiatives at the national level and limits their participation at stakeholder engagements.
The responsibility of the private sector in building climate resilience and low carbon development pathway is critical for Burundi as the magnitude of activities necessitate private sector involvement for the realization of the NDC, particularly because the private sector is underdeveloped. The delivery of private sector-driven projects and programs working with national and subnational actors is necessary for Burundi to support future growth and development efforts.
Taking into account the challenges and lessons learned in executing the first readiness grant with regards to private sector mobilization, this proposal aims to accelerate the involvement of private sector players in the AFOLU and Energy Sectors in building climate resilience for most vulnerable communities and curtailing greenhouse gas emissions. The readiness proposal focuses on 3 areas:
Identification of 2 potential DAE, nomination for accreditation, and accreditation gap assessment of the 2 nominated entities.
Develop an action plan to implement the Private Sector Engagement Framework developed under the First Readiness Grant.
Undertake training of key stakeholders in the development of Concept Notes and PPF Applications for the GCF.
Outcomes:
Direct access applicants and accredited entities (DAEs) have established capacity to meet and maintain the GCF's accreditation standards, and accredited DAEs have the capacity to develop a pipeline of projects and effectively implement GCF-funded activities;
Relevant country stakeholders (which may include executing entities, civil society organizations, and private sector) have established adequate capacity, systems, and networks to support the planning, programming, and implementation of GCF-funded activities;
An increase in the proportion of PPF requests and funding proposals approved as a result of Readiness and Preparatory Support
The expected impact of the implementation of this request is that Burundi reduces its climate investment gap and makes significant progress towards the involvement of the private sector in climate change initiatives.
The beneficiaries of this readiness proposal are; private sector entities from AFOLU and Energy sectors, banking and microfinance institutions, NDA's office, Burundi Federal Chamber of Commerce and Industry (CFCIB), and the Ministries of Environment and Finance, NGOs supporting gender equality and vulnerable groups, and Academia fraternity.
Document type
Approved readiness proposal
Organisation
Centre de Suivi Ecologique