Call for Nominations for the Indigenous Peoples Advisory Group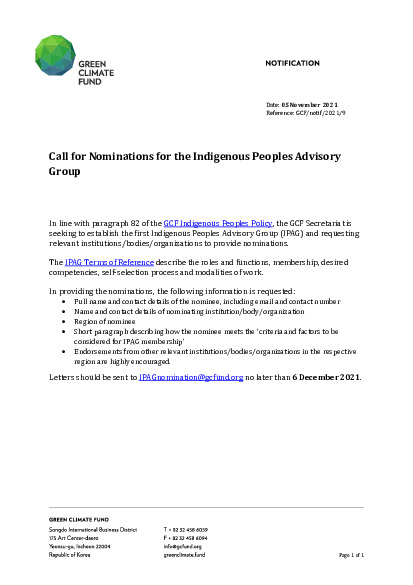 Call for Nominations for the Indigenous Peoples Advisory Group
In line with paragraph 82 of the GCF Indigenous Peoples Policy, the GCF Secretariat is seeking to establish the first Indigenous Peoples Advisory Group (IPAG) and requesting relevant institutions/bodies/organizations to provide nominations.
The IPAG Terms of Reference describe the roles and functions, membership, desired competencies, self-selection process and modalities of work.
In providing the nominations, the following information is requested:
Full name and contact details of the nominee, including email and contact number
Name and contact details of nominating institution/body/organization
Region of nominee 
Short paragraph describing how the nominee meets the 'criteria and factors to be considered for IPAG membership'
Endorsements from other relevant institutions/bodies/organizations in the respective region are highly encouraged.
Letters should be sent to [email protected] no later than 6 December 2021.
Cover date
05 November 2021
Document type
Notification