Call for Board inputs: REDD+ Results Based Payments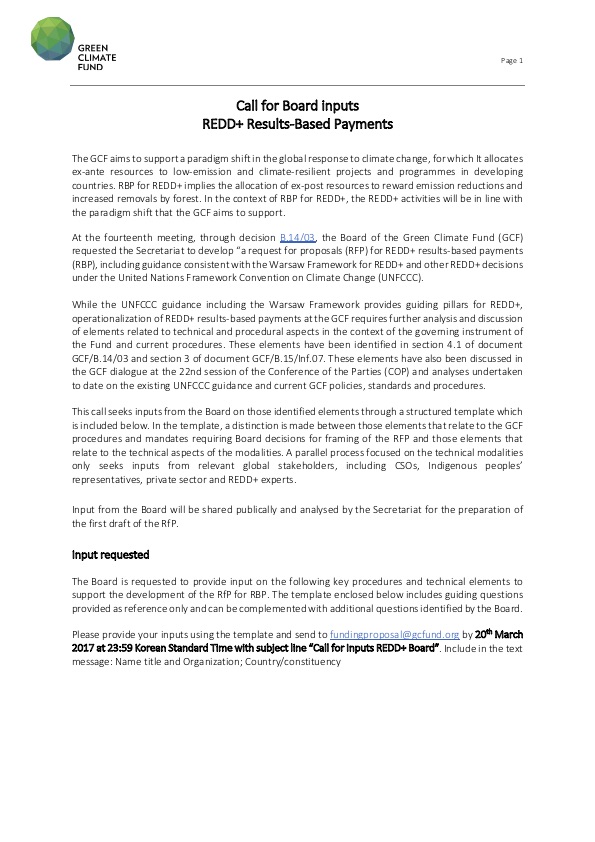 Download
Call for Board inputs: REDD+ Results Based Payments
At the fourteenth meeting, through decision B.14/03, the Board of the Green Climate Fund (GCF) requested the Secretariat to develop "a request for proposals (RFP) for REDD+ results-based payments (RBP), including guidance consistent with the Warsaw Framework for REDD+ and other REDD+ decisions under the United Nations Framework Convention on Climate Change (UNFCCC).
While the UNFCCC guidance including the Warsaw Framework provides guiding pillars for REDD+, operationalization of REDD+ results-based payments at the GCF requires further analysis and discussion of elements related to technical and procedural aspects in the context of the governing instrument of the Fund and current procedures. These elements have been identified in section 4.1 of document GCF/B.14/03 and section 3 of document GCF/B.15/Inf.07. These elements have also been discussed in the GCF dialogue at the 22nd session of the Conference of the Parties (COP) and analyses undertaken to date on the existing UNFCCC guidance and current GCF policies, standards and procedures.
This call seeks inputs from the Board on those identified elements through a structured template which is included below. In the template, a distinction is made between those elements that relate to the GCF procedures and mandates requiring Board decisions for framing of the RFP and those elements that relate to the technical aspects of the modalities. A parallel process focused on the technical modalities only seeks inputs from relevant global stakeholders, including CSOs, Indigenous peoples' representatives, private sector and REDD+ experts.  
 
Cover date
24 February 2017
Document type
Call for input