RFQ 2023/017: Consultancy Services for Evaluation Capacity Needs Assessment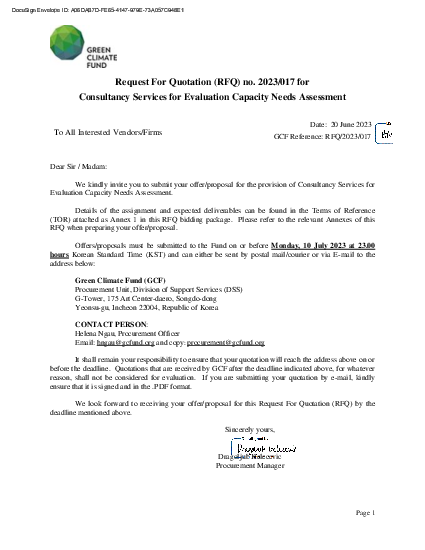 RFQ 2023/017: Consultancy Services for Evaluation Capacity Needs Assessment
Submissions to this procurement notice has ended.
We kindly invite offers or proposals for the provision of Consultancy Services for Evaluation Capacity Needs Assessment.  Details of the assignment and expected deliverables can be found in the Terms of Reference (TOR) attached as Annex 1 in this RFQ bidding package.  Please refer to the relevant Annexes of this RFQ when preparing your offer/proposal. 
Offers/proposals must be submitted to the Green Climate Fund on or before Monday, 10 July 2023 at 23.00 hours Korean Standard Time (KST).
Publication date
20 June 2023