RFQ 2023/014 : Provision of Team Workshop Facilitator for IEU Retreats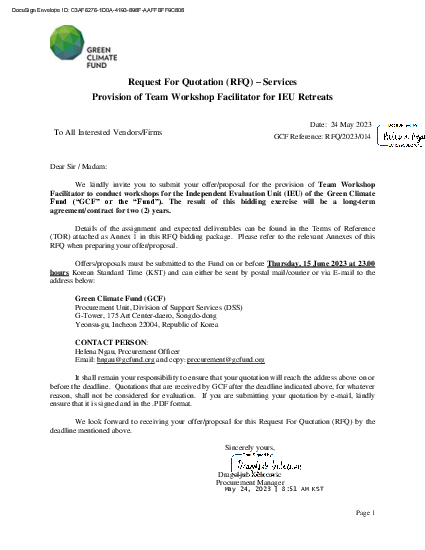 RFQ 2023/014 : Provision of Team Workshop Facilitator for IEU Retreats
Submissions to this procurement notice has ended.
We kindly invite interested vendors/firms/sole proprietors to submit offers or proposals for the provision of a Team Workshop Facilitator to conduct workshops for the Independent Evaluation Unit (IEU) of the Green Climate Fund ("GCF" or the "Fund"). This bidding exercise will result in a non-exclusive long-term agreement/contract for two (2) years.
Details of the assignment and expected deliverables can be found in the Terms of Reference (TOR) attached as Annex 1 in this RFQ bidding package.  
Offers/proposals must be submitted to the Fund on or before Thursday, 15 June 2023 at 23.00 hours Korean Standard Time (KST
Publication date
24 May 2023