RFQ 2022/010: Consultancy services for Interview Training for Hiring Managers and Panel Members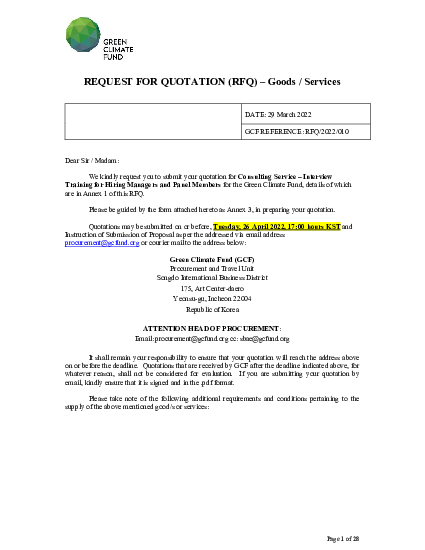 RFQ 2022/010: Consultancy services for Interview Training for Hiring Managers and Panel Members
Submissions to this procurement notice has ended.
The Green Climate Fund (GCF) is seeking to contract qualified, reputable and experienced Firm for Provision of Consultancy services for Interview Training for Hiring Managers and Panel Members. The contract type will a Long Term Agreements (LTA) of initial 3(three) years on the basis of "if and when required". Details of which are in the Request for Quotation documents (RFQ 2022-010).
Terms of Reference (TOR) included in Annex 1 of the RFQ Package.
The closing date for receipt of proposals is Sunday 26 April at 17.00 hours Korea Standard Time.
Publication date
30 March 2022