RFP 2023/040: Consultancy Services for Independent Evaluation of Relevance and Effectiveness of GCF Investments in Latin America and Caribbean (LAC) Region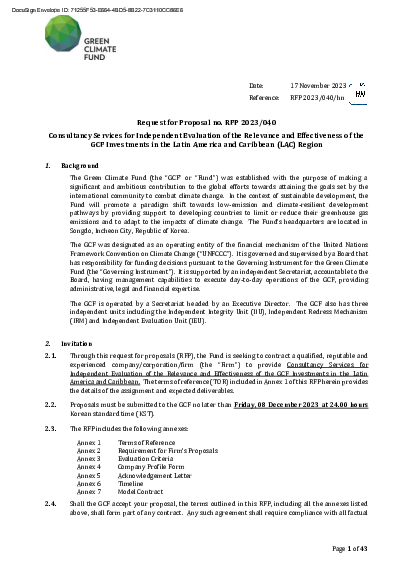 RFP 2023/040: Consultancy Services for Independent Evaluation of Relevance and Effectiveness of GCF Investments in Latin America and Caribbean (LAC) Region
The Green Climate Fund (the Fund) is seeking to contract a qualified, reputable and experienced company/corporation/firm (the "Firm") to provide Consultancy Services for Independent Evaluation of the Relevance and Effectiveness of the GCF Investments in Latin America and the Caribbean.  The terms of reference (TOR) included in Annex 1 of this RFP provide the details of the assignment and expected deliverables. 
Proposals must be submitted to the GCF no later than Friday, 08 December 2023 at 24.00 hours Korean Standard Time (KST).
Proposals shall be sent to GCF Procurement e-mail at [email protected] and copied to [email protected].
Publication date
17 November 2023