RFP 2023/029: Long Term Agreement for the Consultancy Services Review and Rectification of Green Climate Fund Results and Project Management Data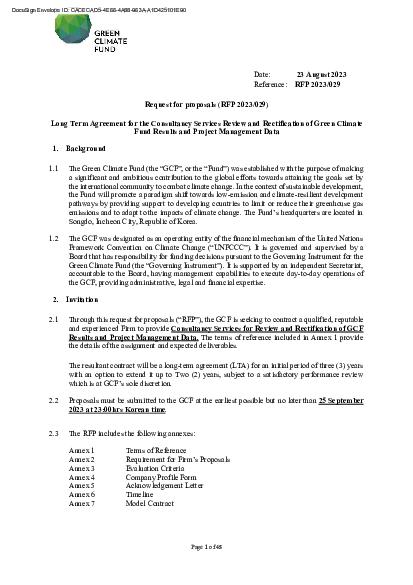 RFP 2023/029: Long Term Agreement for the Consultancy Services Review and Rectification of Green Climate Fund Results and Project Management Data
Submissions to this procurement notice has ended.
The Green Climate Fund ("GCF") is seeking to contract a qualified, reputable and experienced Firm to provide Consultancy Services for Review and Rectification of GCF Results and Project Management Data. The terms of reference included in Annex 1 provides the details of the services and expected deliverables. GCF will establish a Long-Term Agreement for the initial period of 3 years with a possible extension of an additional 2 years, subject to the satisfactory performance of the LTA holder.
Proposals must be submitted to the GCF no later than 25 September 2023 @ 23:00 hours Korean Standard time.
Publication date
23 August 2023