RFP 2023/028: Consultancy Services for Review of the Secretariat's Capabilities to deliver the Updated Strategic Plan for 2024-27, including Development of a Workforce Capacity Planning Model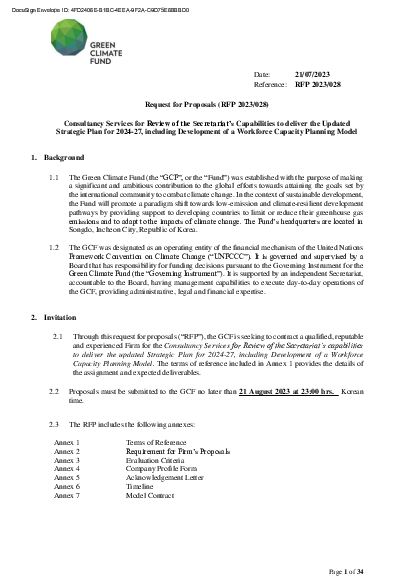 RFP 2023/028: Consultancy Services for Review of the Secretariat's Capabilities to deliver the Updated Strategic Plan for 2024-27, including Development of a Workforce Capacity Planning Model
Submissions to this procurement notice has ended.
The Green Climate Fund (GCF) is seeking to contract a qualified, reputable and experienced Firm for the Consultancy Services for Review of the Secretariat's capabilities to deliver the updated Strategic Plan for 2024-27, including Development of a Workforce Capacity Planning Model. The Terms of Reference included in Annex 1 of RFP solicitation document attached provides the details of the assignment and expected deliverables.
Proposals must be submitted to the GCF no later than 28 August 2023 at 23:00 hrs. Korean time.
Publication date
21 July 2023