RFP 2023/005: Consultancy Services for Evidence Review on Water Sector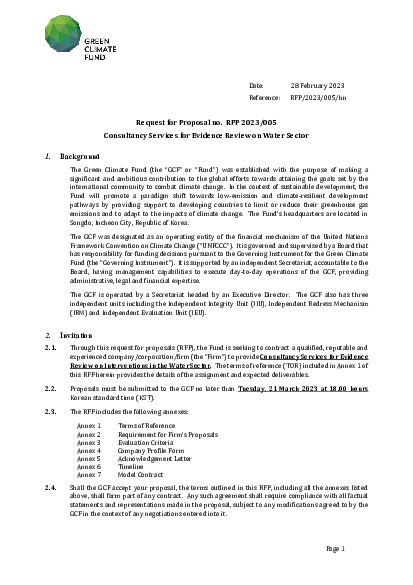 RFP 2023/005: Consultancy Services for Evidence Review on Water Sector
Submissions to this procurement notice has ended.
Through this request for proposals (RFP), the Green Climate Fund is seeking to contract a qualified, reputable and experienced company/corporation/firm (the "Firm") to provide Consultancy Services for Evidence Review on Interventions in the Water Sector.  The terms of reference (TOR) included in Annex 1 of the attached RFP provides the details of the assignment and expected deliverables. 
Effective with the release of this RFP solicitation, all communications relating to this RFP must be directed only to the Head of Procurement by e-mail at [email protected] and copy to [email protected] .  Bidders must not communicate with any other personnel of the GCF regarding this RFP.
Proposals must be submitted to the GCF no later than Tuesday, 21 March 2023, at 18.00 hours Korean standard time (KST).
Publication date
28 February 2023