RFP 2022/008: Consultancy Services for Advisory Support to the GCF Secretariat in the Development of the Evaluation Operational Procedures and Guidelines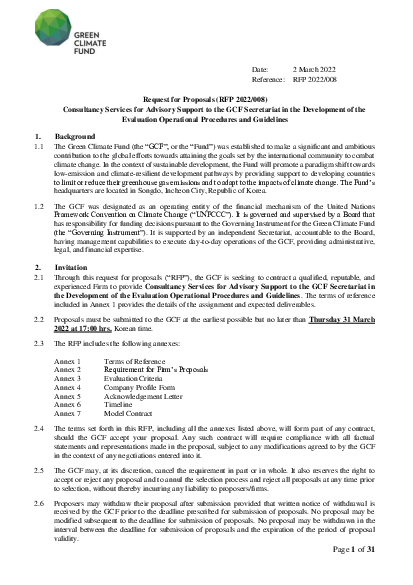 RFP 2022/008: Consultancy Services for Advisory Support to the GCF Secretariat in the Development of the Evaluation Operational Procedures and Guidelines
Submissions to this procurement notice has ended.
The GCF is hereby inviting qualified, reputable, and experienced companies, firms to submit proposals for Consultancy Services for Advisory Support to the GCF Secretariat in the Development of the Evaluation Operational Procedures and Guidelines.
The closing date for receipt of proposals is Thursday 31 March 2022 @17.00 hours Korea Standard Time.
Publication date
02 March 2022