RFP 2022/003: Provision of Negotiation Skills Training to GCF Staffs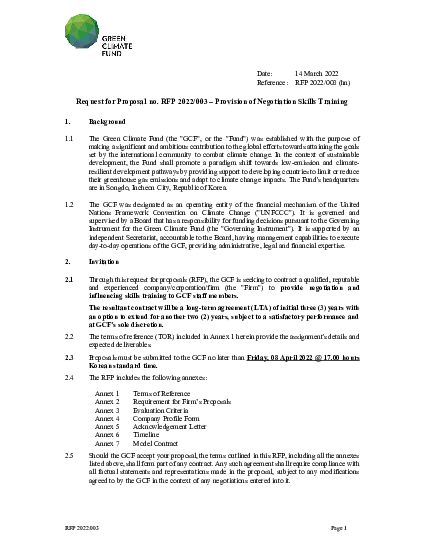 RFP 2022/003: Provision of Negotiation Skills Training to GCF Staffs
Submissions to this procurement notice has ended.
The GCF is seeking to contract a qualified, reputable and experienced company/corporation/firm to provide negotiation and influencing skills training to GCF staff members.  The resultant contract will be a long-term agreement (LTA) of initial three (3) years with an option to extend for another two (2) years, subject to satisfactory performance and at GCF's sole discretion.
The terms of reference (TOR) included in Annex 1 of the RFP package herein provide the assignment's details and expected deliverables.
Proposals must be submitted to the GCF no later than Friday, 08 April 2022 @ 17.00 hours Korean standard time.
Publication date
14 March 2022