RFP 2020/036: Consultancy services for Revisions of Risk Management Framework and Advice on Risk Management Tools (re-advertised)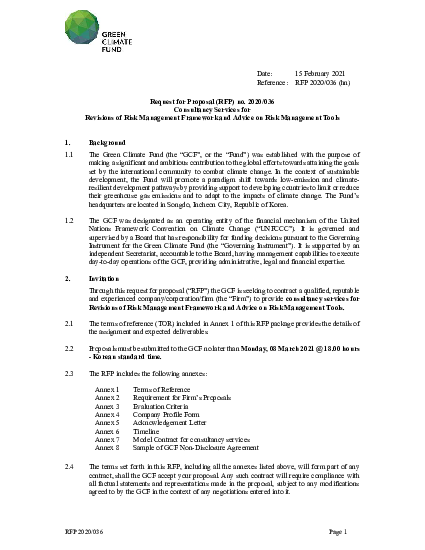 RFP 2020/036: Consultancy services for Revisions of Risk Management Framework and Advice on Risk Management Tools (re-advertised)
Submissions to this procurement notice has ended.
The Green Climate Fund (the "GCF", or the "Fund") hereby wishes to seek comprehesive proposals from qualified, reputable and experienced companies/corporations/firms to provide consultancy services for Revisions of Risk Management Framework and Advice on Risk Management Tools.
Background:  In 2017, the ORMC faced the task of developing the Risk Management Framework ("RMF") and selected a consulting firm to help build the Framework for the GCF.  After two years of in-depth analyses of the GCF's business model and market research, GCF had in place multiple components of the RMF which guide the Secretariat in managing financial risks as well as non-financial risks in the fund.   The ORMC is seeking a qualified and suitable Firm to work on reviewing, developing, and revising the GCF's Risk Management Framework and in response to the Board mandate set in the GCF Workplan.  The ORMC expects this role to have an extensive duration of engaging in multiple projects on an as-needed basis for several years.  This position shall abide by the Procurement standard requirements and set to start during the second half of 2020.  Beyond revising the Risk Management Framework of the GCF, the Firm shall develop robust risk management tools to improve financial/non-financial risk management of the Fund. It shall collaborate with the Fund in multiple projects, develop complementary components, and streamline processes.
The terms of reference (TOR) included in Annex 1 of this Request for Proposal (RFP) package provides the details of the assignment and expected deliverables.
Proposals must be submitted to the GCF no later than Monday, 08 March 2021 @ 18.00 hours - Korean standard time.
We look forward to receiving your queries and proposals.
Procurement Unit, GCF
Publication date
15 February 2021