RFP 2020/036: Consultancy services for Revisions of Risk Management Framework and Advice on Risk Management Tools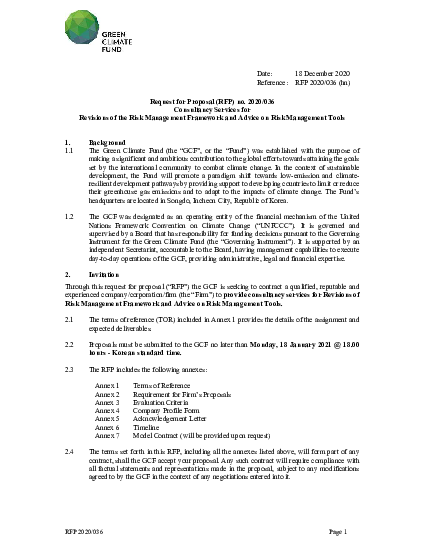 Download
RFP 2020/036: Consultancy services for Revisions of Risk Management Framework and Advice on Risk Management Tools
Submissions to this procurement notice has ended.
The Green Climate Fund (GCF) is seeking to contract a qualified, reputable and experienced company/corporation/firm (the "Firm") to provide Consultancy services for Revisions of Risk Management Framework and Advice on Risk Management Tools.  The terms of reference (TOR) included in attached Annex 1 of the RFP package provides the details of the assignment and expected deliverables.  Proposals must be submitted to the GCF no later than Monday, 18 January 2021 @ 18.00 hours - Korean standard time.
The Office of Risk Management and Compliance [ORMC] is seeking a qualified and suitable Firm to work on reviewing, developing, and revising the GCF's Risk Management Framework and in response to the Board mandate set in the GCF Workplan.  The ORMC expects this role to have an extensive duration of engaging in multiple projects on an as-needed basis for several years.  This position will abide by the Procurement standard requirements and set to start during the second half of 2020.  Beyond revising the Risk Management Framework of the GCF, the Firm will develop robust risk management tools to improve financial/non-financial risk management of the Fund. It will collaborate with the Fund in multiple projects, develop complementary components, and streamline processes. 
Duration of the consultancy: This consultancy assignment is expected to take up to eighteen (18) months or until all the SOWs are completed, whichever comes later
A prospective proposer requiring any clarification of the solicitation documents may notify the GCF in writing to the email address [email protected] and copy the responsible procurement officer ([email protected] ) by the specified date and time mentioned in Annex 6.
The subject line of the email MUST have the reference number and title of the RFP, i.e. RFP 2020/036 - Consultancy services for Revisions of Risk Management Framework and Advice on Risk Management Tools.
The GCF will respond in writing to any request for clarification of the solicitation documents that it receives by the due date published in Annex 6. Written copies of the GCF response which contain information that may be of common interest to all bidders (including an explanation of the query but without identifying the source of inquiry) will be posted on the GCF website and/or communicated via email.
We look forward to receiving your business proposal by the Closing Date of the RFP.
Publication date
18 December 2020