RFP 2020/030: Consulting Services for Alternative Sources of Funding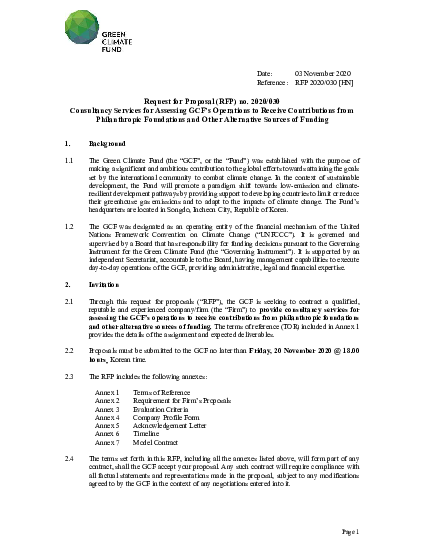 Download
RFP 2020/030: Consulting Services for Alternative Sources of Funding
Submissions to this procurement notice has ended.
Vendors are hereby invited to submit proposals for the required services as detailed in the attached RFP document.  The Green Climate Fund (GCF) is seeking to contract a qualified, reputable and experienced company/firm (the "Firm") to provide consultancy services for assessing the GCF's operations to receive contributions from philanthropic foundations and other alternative sources of funding. The terms of reference (TOR) in Annex 1 of the attached RFP document provides the details of the assignment and expected deliverables.
Proposals must be submitted to the GCF no later than Friday, 20 November 2020 @ 18.00 hours  Korean time.  Please read carefully the instructions on how to submit your proposals.  If you have any queries, do not hesitate to contact us.
Publication date
03 November 2020