RFP 2019/S/030: RFP 2019 S 030 - Legal services on an On Call Basis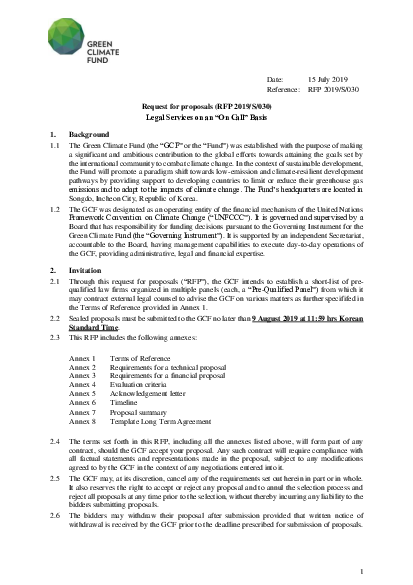 RFP 2019/S/030: RFP 2019 S 030 - Legal services on an On Call Basis
Submissions to this procurement notice has ended.
Through this request for proposals ("RFP"), the GCF intends to establish a short-list of prequalified law firms organized in multiple panels (each, a "Pre-Qualified Panel") from which it may contract external legal counsel to advise the GCF on various matters as further specififed in the Terms of Reference provided in Annex 1.
Proposals must be submitted to the GCF no later than 9 August 2019 at 11:59 hrs Korean Standard Time.
Publication date
15 July 2019
Reference #
RFP 2019/S/030