RFP 2019/S/002: Provision of Recruitment Services for the Green Climate Fund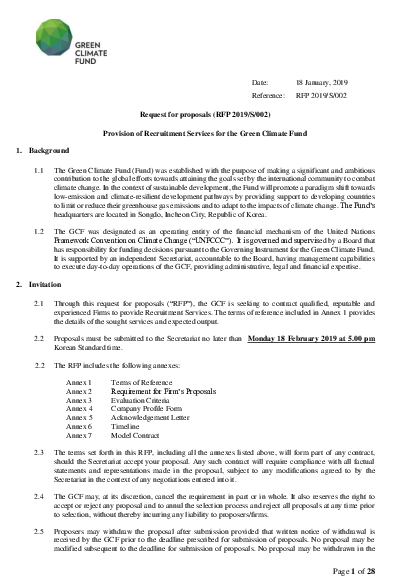 RFP 2019/S/002: Provision of Recruitment Services for the Green Climate Fund
Submissions to this procurement notice has ended.
Through this request for proposals ("RFP"), the GCF is seeking to contract qualified, reputable and experienced Firms to provide Recruitment Services.
Over the next 36 months the Fund will be requiring the services of Recruitment Firms (Firms) to help it to further strengthen and expand its workforce.
The Green Climate Fund is looking for several highly professional Firms who will partner with the Fund to source talented individuals who can make a significant contribution to the organization. The Fund would like to contract Firms who can fulfill senior level executive search mandates, and/or medium volume recruitment of junior to mid-level posts. The engagement will be in form of long-term agreements (LTA) lasting three (3) years. During this time, the Firms will be allocated executive search or recruitment mandates according to the needs of the Fund and the capacity of the Firm.
Proposals must be submitted to the Secretariat no later than Monday 18 February 2019 at 5.00 pm Korean Standard time.
Publication date
18 January 2019
Reference #
RFP 2019/S/002