RFP 2018/C/033: Consultancy Services for Provision of Recruitment and Placement Services of the Executive Director of the Green Climate Fund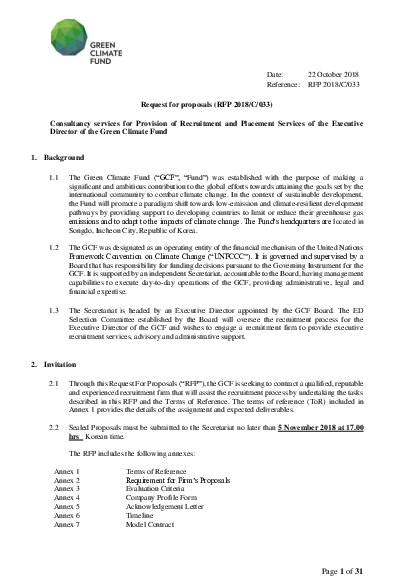 RFP 2018/C/033: Consultancy Services for Provision of Recruitment and Placement Services of the Executive Director of the Green Climate Fund
Submissions to this procurement notice has ended.
The Secretariat is headed by an Executive Director appointed by the GCF Board. The ED Selection Committee established by the Board will oversee the recruitment process for the Executive Director of the GCF and wishes to engage a recruitment firm to provide executive recruitment services, advisory and administrative support.
Through this Request For Proposals ("RFP"), the GCF is seeking to contract a qualified, reputable and experienced recruitment firm that will assist the recruitment process by undertaking the tasks described in this RFP and the Terms of Reference.
Sealed Proposals must be submitted to the Secretariat no later than 5 November 2018 at 17.00 hrs Korean time.
Publication date
22 October 2018
Reference #
RFP 2018/C/033