RFP 2018/C/017: Consultancy Services for Support to the Simplified Approved Process (SAP) Pilot Scheme Communication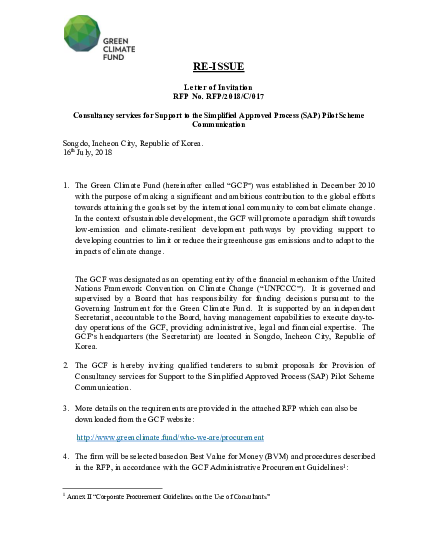 RFP 2018/C/017: Consultancy Services for Support to the Simplified Approved Process (SAP) Pilot Scheme Communication
Submissions to this procurement notice has ended.
The GCF is hereby inviting qualified tenderers to submit proposals for Provision of Consultancy services for Support to the Simplified Approved Process (SAP) Pilot Scheme Communication.
At its eighteenth meeting, the Board of the Green Climate Fund (GCF) approved the pilot scheme for the Simplified Approval Process (SAP).  The objective of the pilot scheme is to reduce the time and effort needed in the preparation, review, approval and disbursement procedures for certain activities, in particular small-scale activities. The pilot scheme will be reviewed by the Board two years from its operationalisation or when USD 80 million of GCF funding is committed. 
The GCF is seeking a specialised firm ("the Firm") to provide support to the Secretariat in the communication of the SAP pilot scheme. The selected Firm will provide a set of communication products and materials for the GCF Accredited Entities (AEs), National Designated Authorities (NDAs)/Focal Points and other relevant stakeholders, in consultation with the GCF SAP Team and the Division of the External Affairs (DEA). The products and materials will be made publicly available on the GCF website and other possible channels and platforms.
The closing date for receipt of proposals is 30 July 2018 at 17.00 hrs Korea Standard Time.
Publication date
16 July 2018
Reference #
RFP 2018/C/017