RFP 2018/C/015: Consultancy Services for the Development of Legal Risk Policy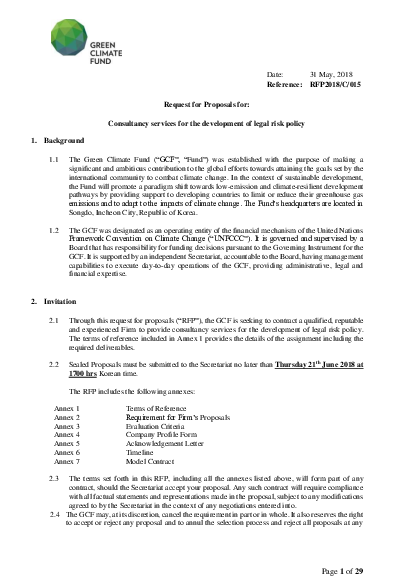 RFP 2018/C/015: Consultancy Services for the Development of Legal Risk Policy
Submissions to this procurement notice has ended.
Through this request for proposals ("RFP"), the GCF is seeking to contract a qualified, reputable and experienced Firm to provide consultancy services for the development of legal risk policy.
Pursuant to the guidance received from the Board, the GCF is in the process of developing and implementing the Risk Management Framework (RMF). The Board adopted the first set of RMF components including the Revised Risk Register at its seventeenth meeting through decision B.17/11. The Revised Risk Register provides a comprehensive list of non-overlapping risk types that concern the GCF, and a clear definition for each risk type in that list. Key risk policies governing five of the seven risk categories in the Revised Risk Register were adopted at its nineteenth meeting through decision B.19/04. The remaining risk policies governing compliance risk and legal risk are planned to be presented at B.20 and B.21, respectively, for the Board's consideration. Given the GCF's business model of relying on Accredited Entities (AEs) via legal agreements such as Accreditation Master Agreement (AMA), legal risks have been identified as a key risk to uphold GCF's policies and standards. Effective management of legal risk requires subject matter expertise, and involvement of an external expert is necessary due to a lack of capacity within the Secretariat to undertake this assignment, and the need for insight and experience in legal risk management.
Sealed Proposals must be submitted to the Secretariat no later than 21 June 2018 at 1700 hrs Korean time.
Publication date
31 May 2018
Reference #
RFP 2018/C/015