RFP 2018/C/013: Consultancy Services for Defining the Nature, Scope and Extent of Second-level Due Diligence by the Secretariat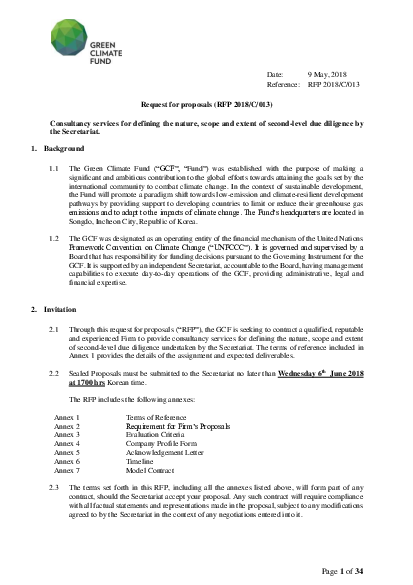 RFP 2018/C/013: Consultancy Services for Defining the Nature, Scope and Extent of Second-level Due Diligence by the Secretariat
Submissions to this procurement notice has ended.
Through this request for proposals ("RFP"), the GCF is seeking to contract a qualified, reputable and experienced Firm to provide consultancy services for defining the nature, scope and extent of second-level due diligence undertaken by the Secretariat.
The Secretariat is seeking assistance from an external consultant to help it (i) define and detail due diligence, first-level and second-level, (ii) undertake consultation with AEs, Secretariat (particularly task managers/reviewers) and independent Technical Advisory Panel (iTAP) to identify stakeholder perspectives on due diligence, and (iii) develop recommendations on how second-level due diligence can be more efficiently and effectively implemented, for further consideration by the Secretariat.
Sealed Proposals must be submitted to the Secretariat no later than 6 June 2018 at 1700 hrs Korean time.
Publication date
09 May 2018
Reference #
RFP 2018/C/013