RFP 2018/C/011: Consultancy Services for Support to the GCF Secretariat in the Operationalization of the Simplified Approved Process (SAP) Pilot Scheme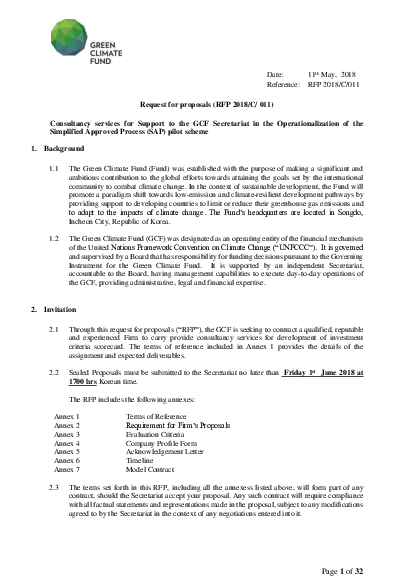 Download
RFP 2018/C/011: Consultancy Services for Support to the GCF Secretariat in the Operationalization of the Simplified Approved Process (SAP) Pilot Scheme
Submissions to this procurement notice has ended.
Through this request for proposals ("RFP"), the GCF is seeking to contract a qualified, reputable and experienced Firm to carry provide consultancy services for development of investment criteria scorecard. The terms of reference included in Annex 1 provides the details of the assignment and expected deliverables.
At its eighteenth meeting, the Board of the Green Climate Fund (GCF) approved the pilot scheme for the Simplified Approval Process (SAP).1 The objective of the pilot scheme is to reduce the time and effort needed in the preparation, review, approval and disbursement procedures for certain activities, in particular small-scale activities. The pilot scheme will be reviewed by the Board when it reaches two years from its operationalization or USD 80 million of GCF funding committed.
The GCF is seeking a specialised international organization ("the Organization") to provide support to the Secretariat in the operationalization of the SAP pilot scheme. The selected Organization will provide qualified professionals that will work with the GCF SAP Team and the relevant GCF Divisions, in particular the Division of Mitigation and Adaptation (DMA), the Private Sector Facility (PSF), and the Country Programming Division (CPD).
Sealed Proposals must be submitted to the Secretariat no later than 1 June 2018 at 1700 hrs Korean time.
Publication date
11 May 2018
Reference #
RFP 2018/C/011