RFP 2018/C/010: Technical Advisory Services on the Piloting of Activities for the Preparation of Country Programmes and Related Processes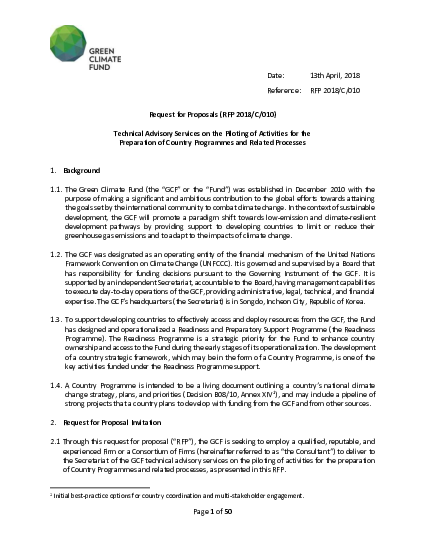 RFP 2018/C/010: Technical Advisory Services on the Piloting of Activities for the Preparation of Country Programmes and Related Processes
Submissions to this procurement notice has ended.
Through this request for proposal ("RFP"), the GCF is seeking to employ a qualified, reputable, and experienced Firm or a Consortium of Firms (hereinafter referred to as "the Consultant") to deliver to the Secretariat of the GCF technical advisory services on the piloting of activities for the preparation of Country Programmes and related processes, as presented in this RFP.
Sealed Proposals must be submitted to the Secretariat no later than Friday May 11, 2018 at 4.00 PM Korean time.
Publication date
13 April 2018
Reference #
RFP 2018/C/010