RFP 2018/C/003: Consultancy Services for the Development of Anti-Money Laundering and Countering the Financing of Terrorism (AML/CFT) Standard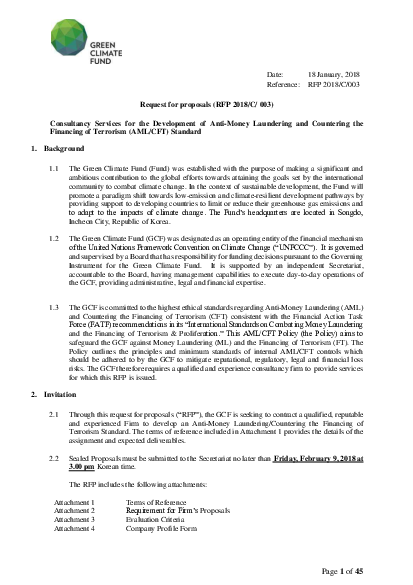 RFP 2018/C/003: Consultancy Services for the Development of Anti-Money Laundering and Countering the Financing of Terrorism (AML/CFT) Standard
Submissions to this procurement notice has ended.
The GCF is committed to the highest ethical standards regarding Anti-Money Laundering (AML) and Countering the Financing of Terrorism (CFT) consistent with the Financial Action Task Force (FATF) recommendations in its "International Standards on Combating Money Laundering and the Financing of Terrorism & Proliferation." This AML/CFT Policy (the Policy) aims to safeguard the GCF against Money Laundering (ML) and the Financing of Terrorism (FT). The Policy outlines the principles and minimum standards of internal AML/CFT controls which should be adhered to by the GCF to mitigate reputational, regulatory, legal and financial loss risks. The GCF therefore requires a qualified and experience consultancy firm to provide services for which this RFP is issued.
Through this request for proposals ("RFP"), the GCF is seeking to contract a qualified, reputable and experienced Firm to develop an Anti-Money Laundering/Countering the Financing of Terrorism Standard.
Sealed Proposals must be submitted to the Secretariat no later than 9 February 2018 at 3.00 pm Korean time.
Publication date
18 January 2018
Reference #
RFP 2018/C/003