RFP 2018/C/001: Development of Baselines of GHG Emissions and Climate Resilience of Accredited Entities' Portfolio of Activities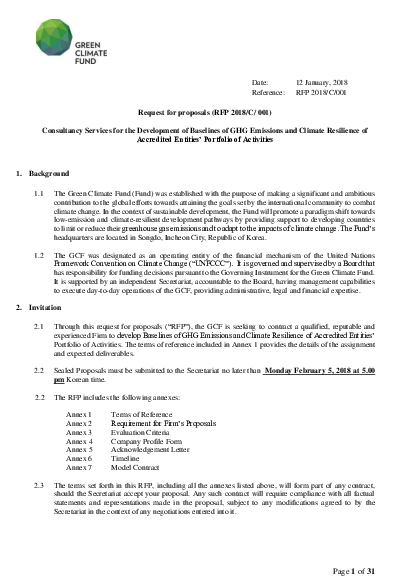 RFP 2018/C/001: Development of Baselines of GHG Emissions and Climate Resilience of Accredited Entities' Portfolio of Activities
Submissions to this procurement notice has ended.
Through this request for proposals ("RFP"), the GCF is seeking to contract a qualified, reputable and experienced Firm to develop Baselines of GHG Emissions and Climate Resilience of Accredited Entities' Portfolio of Activities. The terms of reference included in Annex 1 provides the details of the assignment and expected deliverables.
In decision B.11/10, the GCF Board adopted the monitoring and accountability framework for accredited entities. In decision B.14/08, paragraph (g), at the Board's request the Accreditation Panel ("AP") presented a report at the fifteenth meeting of the Board on progress made towards establishing a baseline for the whole portfolio of accredited entities ("AEs") in accordance with decision B.12/30. The work required should assess and evaluate over time two related attributes of the overall portfolio of an AE and any other entity accredited in the future. The assessment should aim to demonstrate the contribution of each accredited entity (AE) towards lowemission and climate-resilient development. The assessment should be done in such a way that the indicators could be aggregated across AEs.
Sealed Proposals must be submitted to the Secretariat no later than Monday February 5, 2018 at 5.00pm Korean time.
Publication date
12 January 2018
Reference #
RFP 2018/C/001