RFP 2017/C/025: Provision of consultancy services to formulate an Evidence Gap Map and undertake a Systematic Review of Transformational Change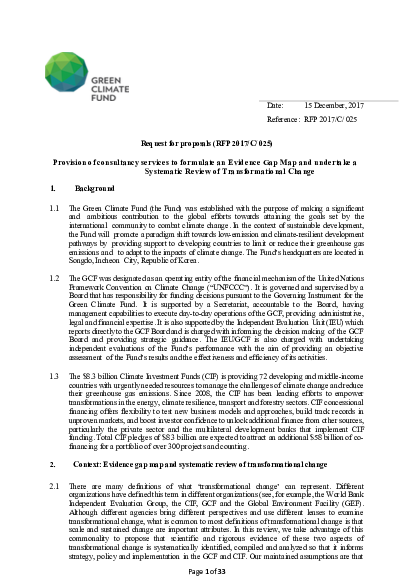 RFP 2017/C/025: Provision of consultancy services to formulate an Evidence Gap Map and undertake a Systematic Review of Transformational Change
Submissions to this procurement notice has ended.
This consultancy assignment is jointly supported by the Independent Evaluation Unit of the Green Climate Fund (IEU) and the Evaluation & Learning Initiative of the Climate Investment Fund (CIF). IEU and CIF are requesting applications from teams to map and systematically meta-analyze multi-sector evidence of the contributors to and determinants of transformational change. Teams are invited to undertake an initial inception study that will sharpen the scope and methods for an evidence review and a subsequent systematic review of evidence that maps and analyzes causal evidence of transformative change and undertakes a meta-analysis of causal, contributing and mitigating factors.
This evaluation is required to be undertaken between February 2018 and March 2019.The terms of reference included in Appendix 1 provide details of the assignment and expected deliverables.
Sealed proposals must be submitted to the IEU/GCF no later than 1st of February 2018, 1700 hrs Korean time.
Publication date
15 December 2017
Reference #
RFP 2017/C/025