RFP 2017/C/019: Study on the implementatibility of conditions on approved projects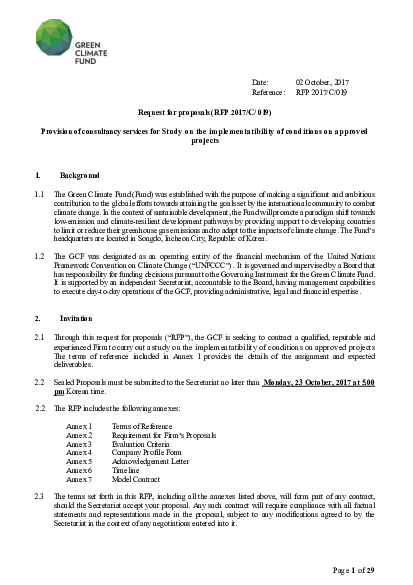 RFP 2017/C/019: Study on the implementatibility of conditions on approved projects
Submissions to this procurement notice has ended.
Through this request for proposals ("RFP"), the GCF is seeking to contract a qualified, reputable and experienced Firm to carry out a study on the implementatibility of conditions on approved projects The terms of reference included in Annex 1 provides the details of the assignment and expected deliverables.
Sealed Proposals must be submitted to the Secretariat no later than  Monday, 23 October, 2017 at 5.00 pm Korean time.
Publication date
02 October 2017
Reference #
RFP 2017/C/019