RFP 2015/106: Catering Services for the 10th Meeting of the GCF Board in Songdo, Republic of Korea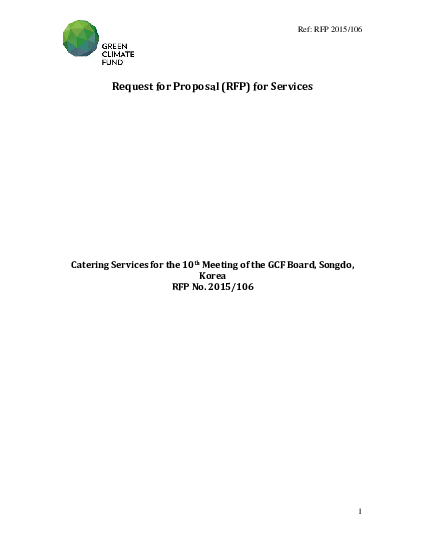 Download
RFP 2015/106: Catering Services for the 10th Meeting of the GCF Board in Songdo, Republic of Korea
Submissions to this procurement notice has ended.
The Fund holds three Board Meetings a year. The next meeting is scheduled to take place from 6 to 9 July 2015 in Songdo at the headquarters of the GCF Secretariat (hereafter the "Secretariat"). The number of meeting participants is approximately 270 people.
The Board meeting will take place over five days including one day of preparatory meeting and four days of the official Board Meeting itself.
GCF invites qualified companies to submit their technical and financial proposals to provide catering services for the 10th Meeting of the GCF Board at GCF Headquarters Offices located in Songdo, Republic of Korea.
GCF shall open technical proposals received by the deadline on June 9, 2015 at 4:00PM in the presence of GCF IPC members.
Publication date
26 May 2015