RFP 2015/104: International Retirement Plan Project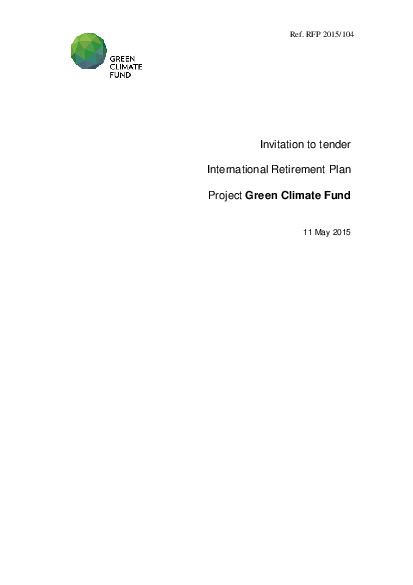 Download
RFP 2015/104: International Retirement Plan Project
Submissions to this procurement notice has ended.
The Green Climate Fund ("the Fund") was established with the purpose of making a significant and ambitious contribution to the global efforts towards attaining the goals set by the international community to combat climate change. The Fund is governed and supervised by the Board and was designated as an operating entity of the financial mechanism of the United Nations Framework Convention on Climate Change (UNFCCC).
Pledges amounting to $10bn from key countries committed to climate change and is estimated to grow in future years. The Fund's headquarters are located in Songdo, Incheon City, Republic of Korea. There are currently 33 members of staff with a mixture of international employees (25) and local hires (8). Employee headcount is expected to grow to c.50 within the next 2 years. The current employees represent 14 nationalities, including 3 US Nationals, all working from Songdo. The retirement plan constitutes an important benefit that enables the Fund to recruit and maintain high quality professional and support staff. Through this request for proposals, the Fund is seeking to award, on the basis of a fair, transparent and competitive selection process, a contract to the successful provider to offer an International Defined Contribution Retirement Plan.
Publication date
11 May 2015