ITB 2021/001: End-user Hardware, Including Laptops, PCs, and Peripherals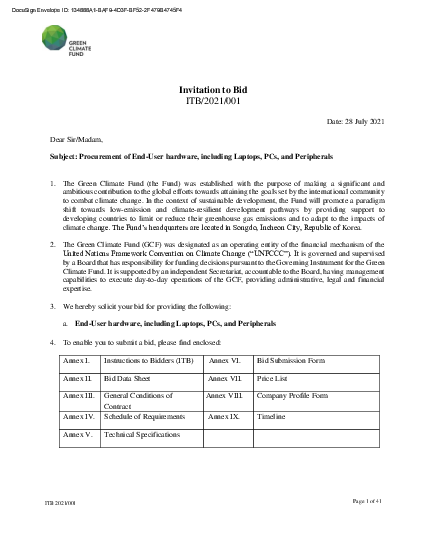 ITB 2021/001: End-user Hardware, Including Laptops, PCs, and Peripherals
Submissions to this procurement notice has ended.
The Green Climate Fund (the Fund) was established with the purpose of making a significant and ambitious contribution to the global efforts towards attaining the goals set by the international community to combat climate change. In the context of sustainable development, the Fund will promote a paradigm shift towards low-emission and climate-resilient development pathways by providing support to developing countries to limit or reduce their greenhouse gas emissions and to adapt to the impacts of climate change. The Fund's headquarters are located in Songdo, Incheon City, Republic of Korea.
The Fund is soliciting bids for ICT end-user hardware such as laptops, PCs, and peripherals - a breakdown of items can be found in Annex V. Submissions must be made on or before 11 August 2021, 17:00 hrs KST.
Publication date
28 July 2021