EOI 2019/C/002: Consultancy Services to provide project preparation services to GCF Accredited Entities (AEs) in conducting technical studies and formulating Funding Proposals (FP) for projects and programs to be funded by GCF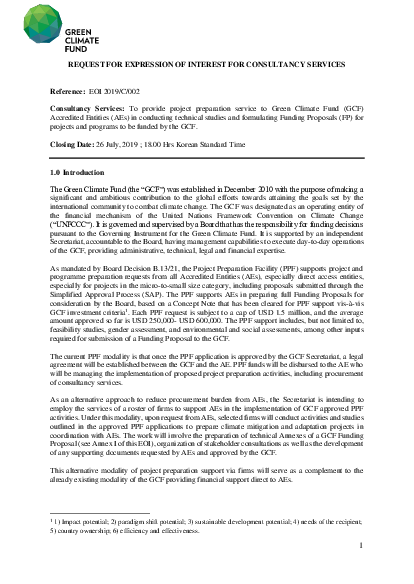 EOI 2019/C/002: Consultancy Services to provide project preparation services to GCF Accredited Entities (AEs) in conducting technical studies and formulating Funding Proposals (FP) for projects and programs to be funded by GCF
Submissions to this procurement notice has ended.
The objective of this assignment is to strengthen the technical network and capacity of GCF Accredited Entities, especially direct access entities, in reaching out to quality project preparation services for conducting studies and activities needed to prepare for a high-qualify Funding Proposal for the consideration of the GCF. This assignment will also help releasing AEs' administrative burden for procurement and project management, and therefore reduce the time needed for project preparation. This will be done by engaging the services of a roster of firms to provide direct project preparation services to GCF AEs, based on requested activities by AEs outlined in approved PPF applications.
The GCF hereby invites eligible firms to indicate their interest in providing the services. Interested firms must provide detailed information indicating that they are qualified to perform the services (description of similar assignments, evidence of familiarity with undertaking climate mitigation and adaptation projects for developing countries for any of the 8 GCF result areas; understanding of GCF requirements and standards). The Expressions of Interest should include track record and proven expertise in supporting multiple developing countries in preparing climate change investment projects; team composition, regional or country presence and overall approach to undertake assignments.
Expressions of Interest can be submitted on or before 18:00 hours local time on 26 July, 2019.
Publication date
13 June 2019
Reference #
EOI 2019/C/002